NAMB Swarm-Phoenix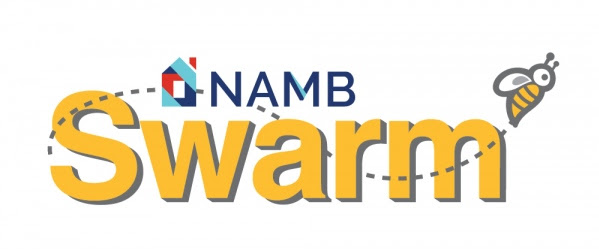 Join NAMB, YMPA and NAPMW for the upcoming NAMB Swarm, sponsored by United Wholesale Mortgage (UWM), on Wednesday, April 4 at Kimpton Hotel Palomar in Phoenix. This day-long event is filled with a variety of speakers that will provide those in attendance with great information and useful tools that you can use to help grow and improve your business! Cost for this session is only $40 per person and includes breakfast and lunch!
Agenda
8:30am: Registration begins
9:00am-9:50am: Young Mortgage Professionals: Refueling the Mortgage Industry Through Attracting, Connecting and Educating (ACE) Millennials
Speakers, panel format:
JD Cutri, Regional Account Executive of Plaza Home Mortgage and President of YMPA
Roslyn Zankich, VP, National Account Manager of Essent MI and affiliate of YMPA
Nate Clear, Senior Account Executive at First Funding and member of YMPA
Matt Coles, Sales Manager at Plaza Home Mortgage and affiliate of YMPA
Moderated by Ryan Kelly, Marketing & Communications Manager at Plaza Home Mortgage, Inc.
Please join the Young Mortgage Professionals Association for a panel discussion covering the topic of millennials in the workplace.
Mortgage companies on a growth path need to recognize the effects Millennials are having on their workforce. Considering the fact that in a few short years, three out of every four global workers will be a Millennial but that most mortgage employers are set up to cater to Boomer workers, how do we get Millennials to consider a career in the mortgage industry? We'll discuss tactics on recruiting, educating and retaining Millennials. Join us to learn more about the changes your business may need to make in order to stay relevant in today's market.
10:00am-10:50am: How to Rapidly Win Great Agent Relationships presented by Ron Vaimberg, President and Head Coach of NMPU 
In this amazing 50 minute presentation you will learn high impact strategies to:
Get the attention of agents in a crowded marketplace
Ask the right questions that allow you to stand out from the crowd
Overcome the most common agent objection like "I am working with another lender", or "I only do listings"
And much more…
11:00am-12:20pm:  A Federal Government Affairs Update presented by Roy DeLoach, NAMB Lobbyist
Don't miss this informative session presented by Roy DeLoach, NAMB's Lobbyist, who will provide those in attendance with a D.C. insider's view of what's happening in Washington, D.C.  Learn more about important bills of interest and how changes in DC may affect the mortgage industry.
12:30pm-1:20pm: Jay Josephs, Owner of Josephs Appraisal Group
Josephs Appraisal Group, Inc was established in 2003 by Jay A. Josephs who is the owner and an active working appraiser. Jay is a Certified Appraiser with over 26 years experience. Jay is also a Licensed Real Estate Broker as well as an instructor for the Department of Real Estate and teaches a CE class, "Understanding the Appraisal Process for the Real Estate Agent".
1:30pm-2:20pm: Taking Market Share in 2018 presented by United Wholesale Mortgage
In an industry where everyone offers the same products and good pricing is a dime a dozen, it is innovative technology and committed partnerships that shape your ability to grow business. Allen Beydoun, Executive Vice President of Sales at United Wholesale Mortgage, discusses UWM's commitment to giving business back to the broker, as well as the features and technology it has in place to help you capture additional market share. Learn how the combination of game-changing technology and unrivaled client service access will get your borrowers to the closing table faster than other lenders – and how your business will pick up because of it.
2:30pm-3:20pm: How to Succeed with Social Media presented by John G. Stevens, NAMB President
Learn how to get the most from social media and succeed in business from John G. Stevens, NAMB President. John shows those in attendance how to maximize the tools available on the worldwide web and grow your business by creating a social media strategy.
3:30pm-5:00pm: Happy Hour with NAMB and AZAMP!
For more information, please contact Valerie Saunders, NAMB Executive Director at (202) 434-8250 or via e-mail at valsaun@namb.org.
---