New York MBA 2019 Annual Convention
Dates:
June 9, 2019

to

June 11, 2019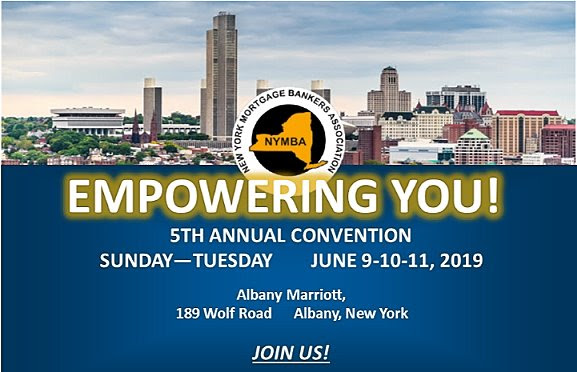 The New York MBA 2019 Annual Convention will be held Sunday-Tuesday, June 9-11 at the Albany Marriott, 189 Wolf Road in Albany, N.Y.
Featuring guest speakers:
►Rob Chrisman, National Daily Mortgage News & Commentary, Chrisman LLC
►Marcia Davies, MBA Chief Operating Officer & Founder, mPower
►Sara Federico, Trainer and Coach, Xinnix Mortgage Academy
►Christopher George, MBA Chairman Founder & President, CEO of CMG Financial 
►Ari Karen, Strategic Compliance Partners
►Jack V. Konyk, Executive Director of Government Affairs, Weiner Brodsky Kider PC
►Regina Lowrie, CMB, RML Advisors
►Mike McAuley, Principal, Garrett, McAuley & Co.
►Rholda Ricketts, Deputy Superintendent, Real Estate Finance for the NYS Dept. of Financial Services
►Marina B. Walsh, Vice President, Industry Analysis Research and Economics for the Mortgage Bankers Association
Click here
to access the full Annual Convention Agenda. 
For more information, contact Christina Wiley by phone at (518) 963-0593 or e-mail
CWiley@NYMBA.org
.