Zillow and the MBA Agree: The Time Is Right for Homebuying
A pair of new data reports from Zillow and the Mortgage Bankers Association (MBA) has reaffirmed what many industry professionals have been saying all year: This is the right time to buy a residential property.
According to Zillow, it is now more affordable to buy a home in most markets than it was 15 years ago. In its new analysis of third quarter income and home value data, Zillow found that, on average, U.S. homebuyers making the nation's median income and purchasing the typical U.S. home spend 15.3 percent of their income on their monthly house payment, down from the historical norm of 22.1 percent during the pre-bubble period from 1985 to 1999. Zillow added that Millennials, who mostly earn less income and make smaller down payments, would spend 17.4 percent of their income on mortgage payments.
In comparison, renters on average spent 29.9 percent of their monthly income on rent in the third quarter of 2014, up from 24.9 percent historically. Zillow stated that renters in Washington, D.C., can expect to spend 27.1 percent of their income on rent, up from 16.2 percent historically, while the rent percentage of income in Miami has risen from 26.5 percent before the bubble to 44.5 percent currently.
"Despite rising home values, homeownership remains very accessible for buyers that can scrape together a down payment–even if that downpayment is relatively modest–find a home to buy and secure financing," said Zillow Chief Economist Dr. Stan Humphries. "But what keeps me up at night is the fact that it still remains so difficult for so many potential buyers to make those particular stars align, largely because renting is so unaffordable these days. It's very difficult to come up with a downpayment when so much of your monthly paycheck–especially on an entry-level salary–is going to your landlord instead of into your savings. Buying conditions are getting better every day, and in time the allure of fixed housing payments and building wealth through home equity will draw more buyers out of rentals and into homeownership."
And for those looking for a mortgage, new data from the MBA has determined credit availability is not a problem. The trade group's Mortgage Credit Availability Index (MCAI) increased 1.2 percent to 114.6 in November; the index was benchmarked to 100 in March 2012.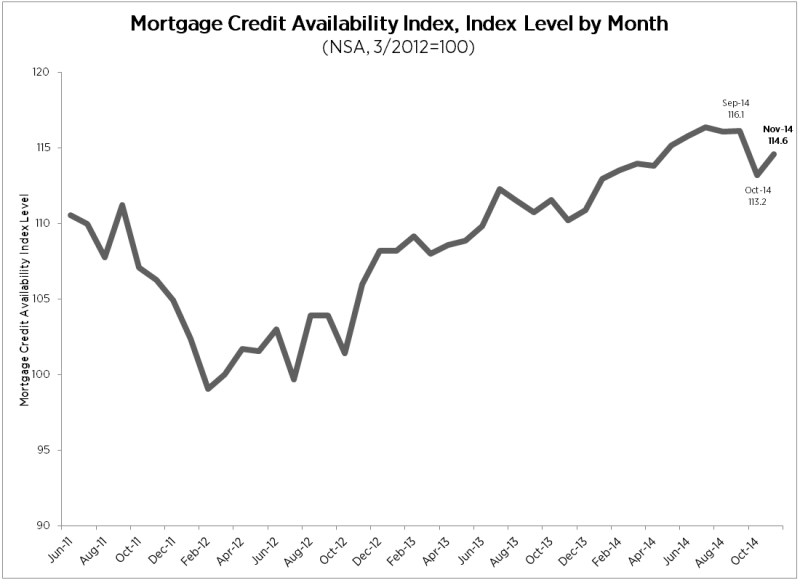 The MCAI increased 1.2 percent to114.6 in November. A decline in the MCAI indicates that lending standards are tightening, while increases in the index are indicative of a loosening of credit. The index was benchmarked to 100 in March 2012. The MCAI analyzes data from the AllRegs Market Clarity product for its findings.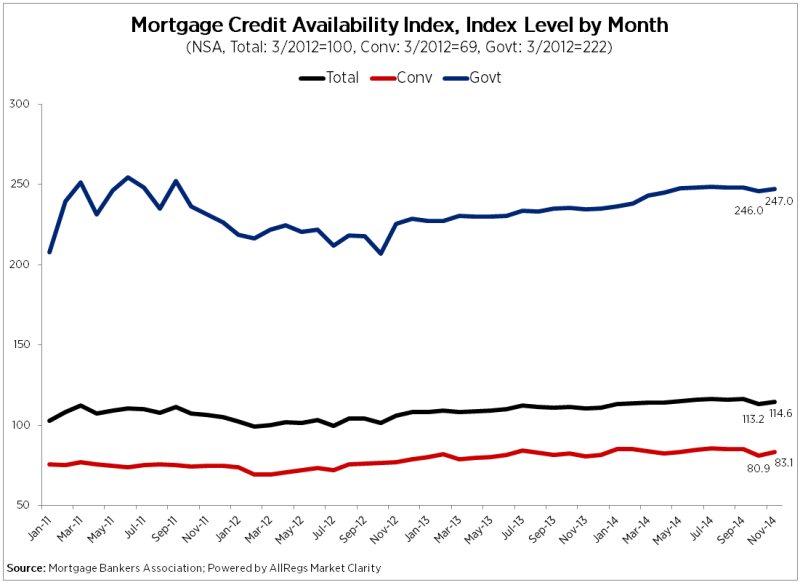 "Credit availability increased in November, largely due to the addition of jumbo loan programs that permit cash-out refinancing," said Mike Fratantoni, MBA's chief economist. "Home price appreciation and larger equity cushions have likely made some lenders more willing to allow certain borrowers to take cash out, while still low mortgage rates may make this a more attractive opportunity for some." 
Subscribe to the NMP Daily