After SCOTUS Same-Sex Marriage Ruling, Will LGBT Housing Protections Follow?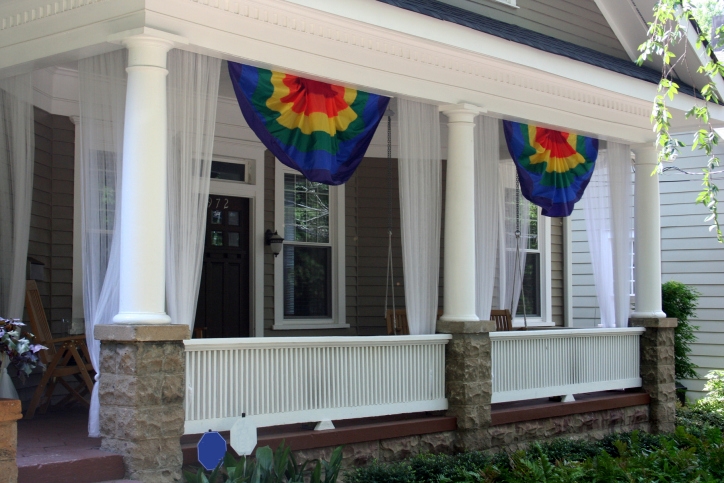 While today's Supreme Court ruling enables same-sex couples to be legally married, there is still no federal law that specifically protects LGBT Americans from being discriminated against if they seek homeownership.
Originally passed in 1968 and expanded several times over the years, the Fair Housing Act prohibits housing discrimination based on race, color, national origin, religion, gender, disability or family status. The Obama Administration never publicly advocated for congressional expansion of the Fair Housing Act to encompass LGBT Americans, nor did Congress expand the law as part of the Dodd-Frank Act of 2010 (which was co-authored by the openly gay Rep. Barney Frank).
In December 2010, three weeks before the end of the 112th Congress (the last time Democrats controlled both the House and Senate), the Housing Opportunities Made Equal (HOME) Act was introduced by Rep. Jerrold Nadler (D-NY) as a means to expand the Fair Housing Act to cover discrimination based on sexual orientation. It was too late in the congressional session for the bill to have any traction, and Rep. Nadler reintroduced in June 2013 in the 113th Congress, where it was fatally stalled. The Los Angeles Times reports that new legislation to provide comprehensive federal protections for gays and lesbians nationwide, including in housing, is expected to be introduced this summer by Rep. David Cicilline (D-RI) in the House and Sen. Jeff Merkley (D-OR) in the Senate.
In 2012, the U.S. Department of Housing & Urban Development (HUD) issued a regulation that prohibited LGBT discrimination in federally-assisted housing programs under the department's umbrella. A year later, HUD issued a report on discrimination against LGBT Americans seeking rental properties; to date, the department has not issued any data on homeownership-related discrimination for this demographic. HUD has also stated on its website that LGBT Americans with HIV/AIDS would qualify for protection under the Fair Housing Act under discrimination based on disability.
According to the Human Rights Campaign, a non-profit that advocates for LGBT rights, 18 states and the District of Columbia have local laws that prohibit housing discrimination based on sexual orientation and gender identity, while another three states have laws focused on sexual orientation discrimination only. More than 200 municipalities have their own laws preventing this type of discrimination.
After another landmark Supreme Court decision this week on disparate claims in housing discrimination, the Human Rights Campaign announced that housing would be a main focus in its efforts to ensure LGBT rights and to expand the Fair Housing Act.
"LGBT people, especially those in communities of color, rely on the Fair Housing Act to address inequality," said Stephen Peters, national press secretary for the Human Rights Campaign. "Although the Fair Housing Act does not specifically protect from discrimination on the basis of sexual orientation and gender identity, many LGBT people who experience discrimination based on their sexual orientation or gender identity may still be covered by the sex or disability provisions of the Fair Housing Act."