Mortgage Rates and Applications Up
Freddie Mac pumped some good news into the Thursday data stream with its latest Primary Mortgage Market Survey (PMMS).
The 30-year fixed-rate mortgage (FRM) averaged 3.50 percent for the week ending Sept. 15, up from last week when it averaged 3.44 percent. At this level, the product reached its highest point. The 15-year FRM this week averaged 2.77 percent, up from last week when it averaged 2.76 percent, while the five-year Treasury-indexed hybrid adjustable-rate mortgage (ARM) averaged 2.82 percent this week, up from last week when it averaged 2.81 percent.
Sean Becketti, chief economist at Freddie Mac, was more than pleased with these numbers.
"The 10-year Treasury yield rose 18 basis points to 1.73 percent, its highest level since Brexit," Becketti said. "The 30-year fixed-rate mortgage followed suit, rising 6 basis points to 3.50 percent this week. This is the first week since June that mortgage rates were above 3.48 percent, snapping an 11-week trend."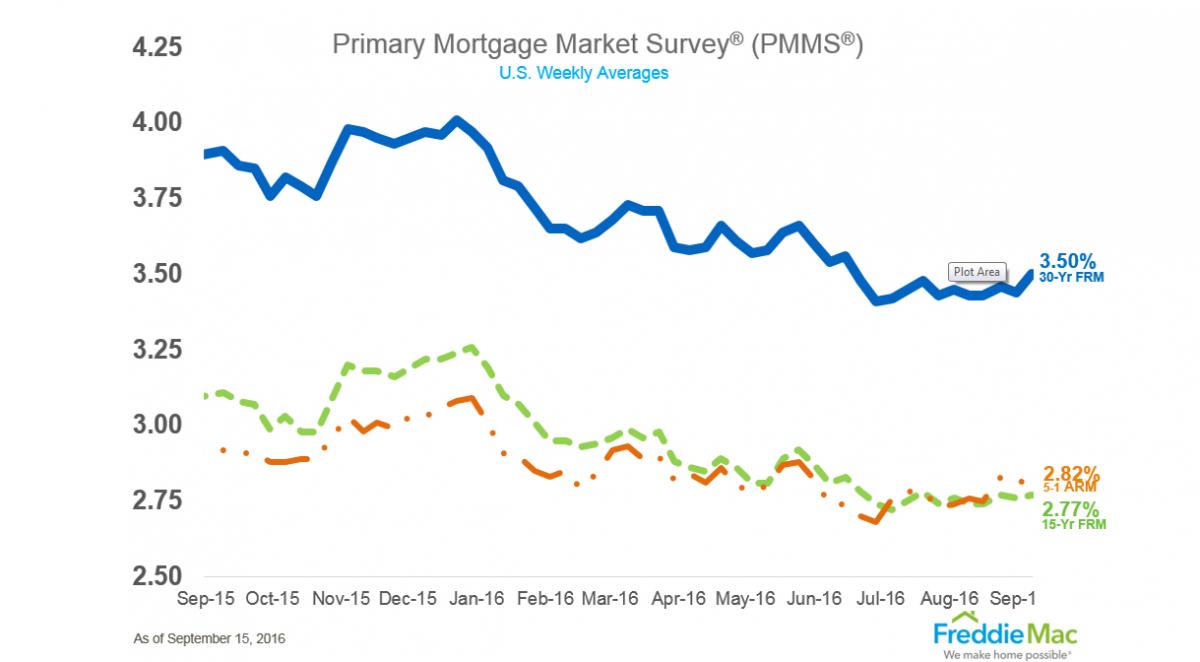 Still, rates are on the very low side, but that does not seem to be hurting the market. The latest Mortgage Bankers Association (MBA) Builder Applications Survey (BAS) determined that mortgage applications for new home purchases increased by five percent from July to August. The MBA estimated new single-family home sales were running at a seasonally adjusted annual rate of 601,000 units in August, an increase of 11.3 percent from the July pace of 540,000 units. On an unadjusted basis, the MBA estimated that there were 48,000 new home sales in August 2016, an increase of 6.7 percent from 45,000 new home sales in July. A little more than two-thirds of applications involved conventional home loans, and the average loan size of new homes decreased from $325,843 in July to $325,224 in August.
"While our new home sales estimates have trailed the recent Census data, the increase in our series in August, which derives from a different source of data compared to the Census, provides some corroboration that single-family building activity has remained strong even as the summer winds down," said Lynn Fisher, MBA's vice president of research and economics. "Our sense is that builders have been attempting to catch up with demand in the face of labor shortfalls and other limiting factors in various parts of the country."