Mortgage Credit Availability Holds Steady, Foreclosures Down
The level of mortgage credit availability was unchanged from March to April while the level of mortgaged properties facing foreclosure, according to new data from the
Mortgage Bankers Association (MBA)
and
CoreLogic
.
The MBA's Mortgage Credit Availability Index (MCAI) remained at 177.9 in April while the four component indices even split between rising and falling: The Conventional MCAI (up 1.9 percent) and the Jumbo MCAI (up 4.4 percent) versus the Government MCAI (down 1.4 percent) and the Conventional MCAI (down 0.9 percent).
"Credit availability in April was unchanged overall, but the components told different stories," said MBA Associate Vice President of Economic and Industry Forecasting Joel Kan. "Government credit tightened slightly as investors continued to pull back on streamline refinance products, while conventional credit availability increased, driven mainly by an expansion in jumbo credit. The jumbo market remains competitive for lenders according to data from our Weekly Application Survey, as the spread between conforming 30-year fixed rate loans and jumbo 30-year fixed rate loans widened to 12 basis points over March and April, the widest this spread has been since early 2016."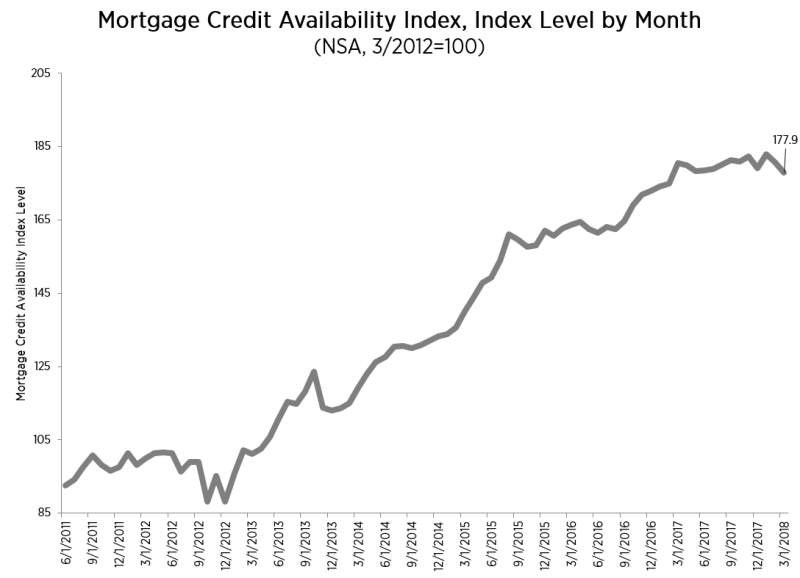 Separately, existing at-risk mortgage holders have become fewer in number,
according to data from CoreLogic
. During February, 4.8 percent of mortgages were in some stage of delinquency, a 0.2 percent decline from one year earlier. The foreclosure inventory rate was 0.6 percent in February, down 0.2 percentage points from 0.8 percent in February 2017 and reaching the lowest for the month of February in 11 years.
The rate for early-stage delinquencies was 2.1 percent in February 2018, up from two percent in January and unchanged from February 2017, while the share of mortgages that were 60-89 days past due in February was 0.7 percent, down from 0.8 percent in January 2018 and unchanged 0.7 percent in February 2017. The serious delinquency rate was 2.1 percent in February, unchanged from January and down from 2.2 percent in February 2017; February's serious delinquency rate was the lowest for the month of February since February 2007, when it was 1.6 percent.
"Last year's hurricanes continue to have an effect on loan performance in affected markets, showing up in statewide data," said Frank Nothaft, Chief Economist for CoreLogic. "Serious delinquency rates in February were 50 percent higher than in August 2017 in Texas, and nearly double in Florida, even though the wind and flood damage was primarily in coastal markets. In Puerto Rico, the damage was widespread. Serious delinquency rates were up five-fold over the August-to-February period, with a significant increase in all metropolitan areas there."