The Fed Raises Interest Rate 0.75% For The 3rd Time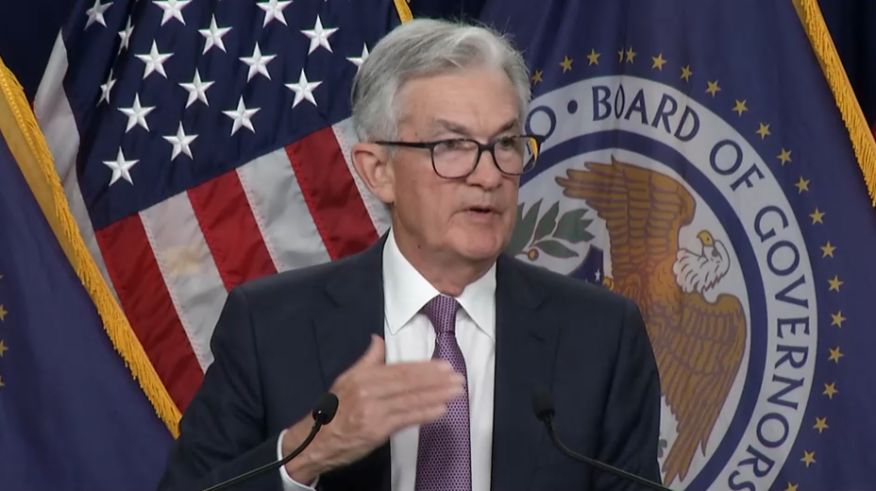 Chairman said housing market may have to go through "a correction" to return to balance.
KEY TAKEAWAYS
Federal Open Market Committee imposes third consecutive 75-basis-point increase.
FOMC sets target range for Fed rate above 4%, which could require two more increases totaling 125 basis points.
The Federal Reserve announced a third-consecutive 75-basis-point increase in the Federal Funds rate Wednesday afternoon, but that's not what caught the most attention.
Instead, it was the decision by the Federal Open Market Committee (FOMC) to set a new, year-end target range for the benchmark Fed rate above 4% — with a midrange of 4.4% — that created a stir.
As Chairman Jerome Powell noted in a news conference following the FOMC meeting, the 4.4% midrange is a full percentage point higher than the target midrange the committee projected in June.
Wednesday's 0.75% increase — the Fed's fifth rate hike this year — brings the current target range for the Fed rate to between 3% and 3.25%, its highest level since 2008. To get to the year-end target will require increasing the rate by another 125 basis points.
The FOMC does not meet in October, but has meetings scheduled in November and December. That raises the possibility it could do at least one more 75-basis point increase followed by a 50-basis-point hike, or some combination of that.
Powell, as usual, was non-committal about future increases.
"We make one decision per meeting," he said, while acknowledging that the "median suggests another 1.25 percentage points in rate increases" to come. "We're going to make that decision at the (next) meeting; we didn't make that decision today."
"We've raised interest rates by 3 percentage points this year," Powell added. "At some point it will become appropriate to reduce our increases."
Inflation Still Running High
That's not likely to be anytime soon. As the committee noted in its official statement, inflation remains "elevated, reflecting supply-and-demand imbalances related to the pandemic, higher food and energy prices, and broader price pressures."
According to the monthly report released Sept.13 by the U.S. Department of Labor's Bureau of Labor Statistics (BLS), the consumer price index (CPI) ticked up 0.1% in August from a month earlier on a seasonally adjusted basis, after being unchanged in July. The annual rate, however, dipped to 8.3%, its second-straight monthly decrease after it hit 9.1% in June — the highest rate since the 12-month period ending November 1981.
Month-over-month increases in the shelter, food, and medical care indexes offset a 10.6% decline in the gasoline index.
However, core inflation — which excludes the volatile food and energy categories — remained elevated, jumping 0.6% in August from the previous month. That was led by the shelter index, which jumped 0.7% from July, the biggest monthly increase since 1991. Year over year, the shelter index is up 6.2%.
Powell said during his news conference that the committee expects shelter inflation to "remain high for some time."
"What I'm really saying is that we've had a time of a red-hot housing market all over the country," he said. "There was a big imbalance of supply and demand. … Decelerating housing prices should help bring prices more in line with rents and other fundamentals. We probably in the housing market have to go through a correction to get back to that place."
He also repeated a statement he made in August during a conference in Jackson Hole, Wyo., that the FOMC is "strongly resolved to bring inflation down to 2% and will keep at it until the job is done."
As he did in that earlier speech, he acknowledged that the effort to bring inflation down to the 2% target will not come without pain.
"We can't fail to get inflation down to 2%. We can't fail to do that," he said. "If we were to fail to do that, that would be the thing that would be most painful to the people we serve. So that has to be our overarching focus."
"We have got to get inflation behind us," he added. " I wish there was a painless way to do that. There isn't."
'Trickle-Down Effect' For Housing Market
George Ratiu, senior economist and manager of economic research for Realtor.com, said that while the increase in the Fed rate does not directly affect mortgage rates, it will have a "trickle-down effect."
"Homebuyers will continue to feel higher monthly payments," Ratiu said. "With the rate for a 30-year mortgage 300 basis points higher than last year, the buyer of a median-priced home this week is facing a monthly payment that is 66% higher than the same week in 2021. That's even before you factor in property taxes, insurance, and HOA (homeowner association) fees."
He added, "For most Americans, housing affordability is a critical concern, as home prices and rents continue to rise at double-digit rates and wage growth remains negative, when adjusted for inflation.
Ratiu noted there is a "silver lining" for housing, as buyers could see price cuts as demand has fallen as mortgage rates have risen.
"The sharp pullback in demand has decreased sales of both new and existing homes, and with fewer buyers, sellers are seeing their homes linger longer on the market," he said. "As a result, we're seeing about 20% of properties on the market experiencing price cuts — a level not seen since 2017, when housing markets were on more balanced footing."
While the transition toward balance is welcome news, he said, the "road ahead is likely to remain bumpy, as household finances continue to be squeezed by rising costs and the shortage of homes for sale remains stubbornly in place."
Odeta Kush, deputy chief economist for First American Financial Corp., said the housing industry is very "rate-sensitive," and as a result the market has slowed in response to the Fed's monetary tightening.
"But while higher frequency housing-market indicators — such as mortgage applications — clearly indicate the housing market is cooling, commonly cited inflation measures have not," Kushi said. "While the Fed is aware of the housing market deceleration and the housing market's multiplier effect on the economy, that recognition is not likely enough to deter the Fed from further monetary tightening."