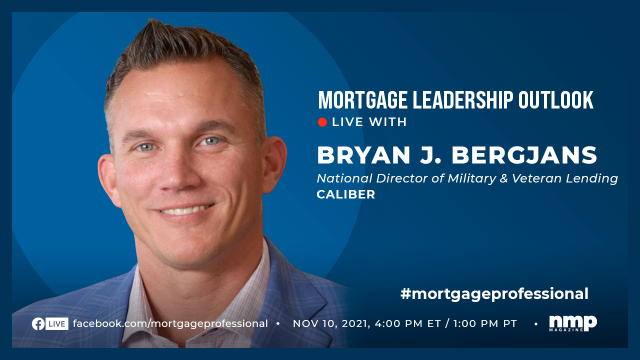 Have you ever thought about VA and military lending? Do you want to know more about what it takes to get involved in lending to our nation's heroes? 
Veterans Day is right around the corner, which makes it the perfect week to bring back Bryan Bergjans, SVP, National Director of Military & Veteran Lending, for Caliber Home Loans. Not only is Bryan the SVP for one for the largest lenders, but Bryan is on active duty serving as Operations Officer (S3) for Navy Cargo Handling Battalion 11. 
Tune in to discuss the importance of being involved in VA lending, the benefits to the VA program, and be sure to stick around to hear Bryan's tips for originators looking to get started in military lending. 
We will go live with Bryan on Wednesday, November 10, 4:00 pm ET/ 1:00 pm PT. 
Wednesday, November 10, 2021
Attend this event
Details
Wednesday, November 10, 2021