Bharara Offers Vague Hint About Weekend Firing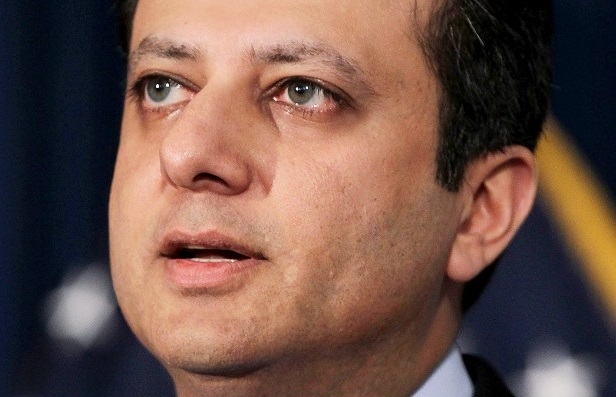 This weekend's surprise developments regarding U.S. Attorney Preet Bharara took a strange turn when Bharara insinuated why he was
fired by President Donald Trump
.
On Friday, Attorney General Jeff Sessions instructed the remaining 46 U.S. Attorneys appointed by the Obama Administration to hand in their resignations—this is a common practice when a presidential administration comes into office. But Bharara refused to comply with Sessions' request, an almost unprecedented action, and went on Twitter on Saturday to announce he was fired. On Sunday, Bharara was back on Twitter with the message, "By the way, now I know what the Moreland Commission must have felt like"—a reference to an anti-corruption investigative entity created by New York Gov. Andrew Cuomo, who later terminated the commission after less than a year.
Bharara, who claimed in November that then President-Elect Trump asked him to stay on the job into 2017—provided no further detail on what his second Twitter message meant. However, Rep. Elijah Cummings (D-MD) claimed—without producing evidence—that Bharara's firing could be tied to a hitherto unannounced investigation of President Trump's foreign earnings.
"When they asked about the Emoluments Clause and possible violations of it and the U.S. attorney's relationship to that, I think that had perhaps something to do with," said Rep. Cummings, the ranking Democrat on the House Oversight Committee, in an interview with ABC's "This Week." While Cummings did not dispute the president's right to remove Bharara from office, he added, "I'm just curious as to why that is and certainly there's a lot of questions coming up as to whether ... Trump is concerned about the jurisdiction of this U.S. attorney and whether that might affect his future."