PowerVP + The Rate App: Two Apps That Will Revolutionize Mortgage Lending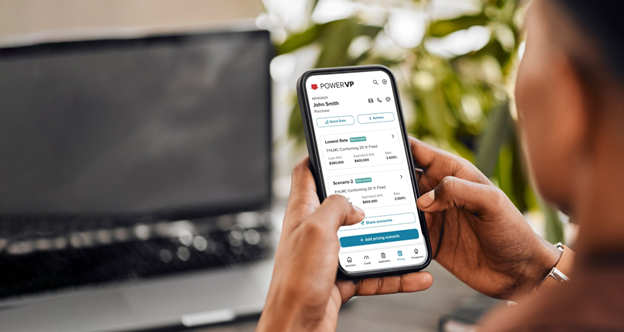 Guaranteed Rate Invents New Mobile App To Significantly Enhance Loan Officers' On-The-Go Capabilities
SPONSORED CONTENT
In the ever-evolving landscape of the mortgage lending industry, Guaranteed Rate has taken a bold step toward becoming the nation's leading fintech company. Its groundbreaking apps – PowerVP and the Rate App – are transforming the way Loan Officers, real estate agents and consumers experience the mortgage process.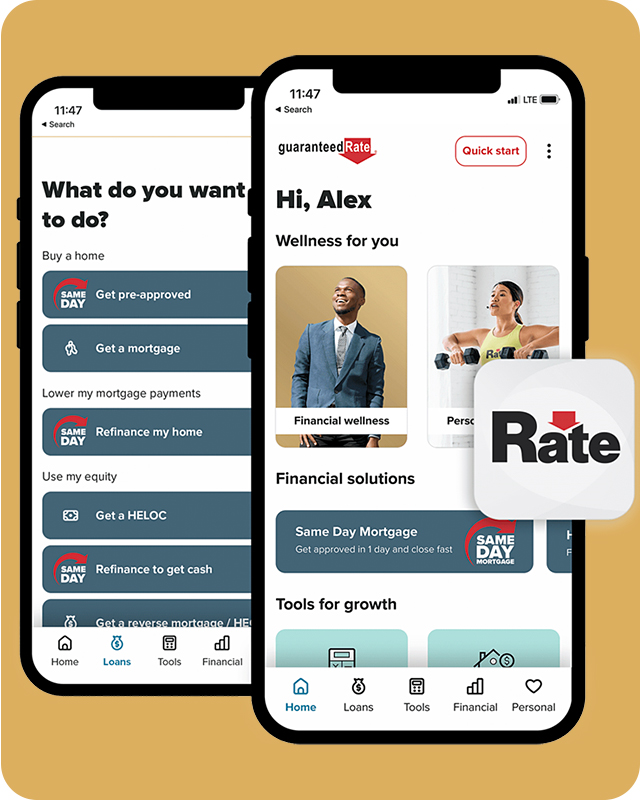 With PowerVP, Loan Officers have newfound flexibility to manage all aspects of their business from their mobile devices, ushering in unparalleled efficiency and communication. 
Simultaneously, the Rate App is making strides in marrying financial wellness with personal wellness, offering consumers a unique blend of mortgage services and well-being resources. 
The PowerVP Advantage
In the past, real estate agents and buyers had to wait for Loan Officers to return to their desks before getting essential updates or approvals. This waiting game could be frustrating, especially when securing a competitive home purchase. Fortunately, Guaranteed Rate has transformed this dynamic with PowerVP, enabling Loan Officers to provide an array of crucial services at their fingertips. The key features and benefits of PowerVP include:
Mobility and Accessibility: Loan Officers are no longer tied to their desks, thanks to PowerVP. This app empowers them to serve clients from anywhere, at any time, directly from their smartphones.
Real-time Information: With PowerVP, Loan Officers can provide agents and borrowers with up-to-the-minute updates on loan status, pricing and credit checks, enhancing transparency and communication.
Faster Approvals: The app accelerates the process of generating pre-approvals, significantly improving the speed of lending operations.
Streamlined Operations: PowerVP streamlines operations, allowing Loan Officers to efficiently manage all aspects of their business, from client qualification to pre-approval.
Winning Bids: Since time is everything, PowerVP's swift pre-approval capabilities can help clients win the race during bidding wars.

The Rate App's Holistic Approach
In a world where daily stressors and financial concerns weigh heavily on individuals (80% of people are stressed about money and health 1, Guaranteed Rate is on a mission to make a positive difference in people's lives. In addition to its efforts in streamlining mortgage lending processes, Guaranteed Rate recognizes that financial wellness and personal wellness are intertwined. That's where the Rate App comes in, offering an innovative solution that puts financial services and well-being resources in the palm of your hand.  
Same Day Mortgage: Buyers can get preapproved for a mortgage in as little as 5 minutes2 and receive full mortgage approval in as fast as 1 day3. This empowers buyers,  real estate agents and Loan Officers, ensuring swift transactions.
Tap Into Home Equity: Users can access their home equity in just 5 days4, enabling them to leverage their real estate assets.
Financial Education: The app provides free financial content, helping users make informed decisions and reduce their money stress.
Personal Wellness: The Rate App offers over 100 free physical fitness classes, covering topics such as yoga, meditation, strength and nutrition. These classes, available to all users, promote a balanced and healthy lifestyle.
Holistic Health: Experts in holistic health are incorporated into the app, enriching users with well-being content that promotes a positive change in their personal well-being.

A Powerful Combination
The PowerVP and Rate app combo represents a powerful convergence of technology and well-being, making Guaranteed Rate a pioneer in the mortgage industry. This synergy offers numerous advantages for Loan Officers, real estate agents, and consumers alike:
Streamlined Mortgage Process: Loan Officers can expedite the lending process, providing clients with quicker approvals, enhancing communication and delivering an improved client experience.
Wellness Integration: By incorporating personal well-being content, the Rate App extends its commitment to making a positive impact in people's lives beyond financial services.
Faster Homebuying: The quick mortgage approval capabilities of the Rate App align with PowerVP's speed, ensuring that buyers can secure their dream homes more efficiently than ever before.
Free Resources for All: The Rate App's classes and content are accessible to all users, fostering personal growth and health regardless of their relationship with Guaranteed Rate.
A Vision for Positive Change: Guaranteed Rate's vision, as articulated by Founder and CEO Victor Ciardelli, goes beyond financial transactions. It strives to make a meaningful difference in people's lives, be it through quick mortgage approvals or holistic well-being.
In a world where technology, finance, and well-being are increasingly intertwined, Guaranteed Rate's PowerVP and the Rate App offer a unique and transformative solution. They are not just apps; they are a testament to innovation and commitment to improving the lives of their users. By empowering Loan Officers with the tools they need to serve clients effectively and by addressing the financial and personal well-being of consumers, Guaranteed Rate is at the forefront of the mortgage lending industry. The PowerVP and the Rate App combo is a powerful force, redefining the way mortgage lending is done and fostering a holistic approach to financial and personal wellness. 
According to Victor Ciardelli, "It's great that people are using our financial products, but if I can make a difference in people's lives ... that is, to me, more important."  
1 Source: Guaranteed Rate/Cint Stress and Well-being survey 2023
2 Guaranteed Rate's 5-minute pre-approval refers to an automated underwriting review of borrower submitted loan documentation and subsequent pre-approval and should not suggest to a borrower that Guaranteed Rate has fully funded or approved the borrowers mortgage application within 5 minutes. Guaranteed Rate cannot guarantee that a loan will be approved or that a closing will occur within a specific timeframe.  Not all borrowers will be approved. Borrower's interest rate will depend upon the specific characteristics of borrower's loan transaction, credit profile and other criteria. Restrictions apply.
3 Guaranteed Rate's Same Day Mortgage promotion offers qualified customers who provide certain required financial information/documentation within 24 hours of locking a rate on a mortgage loan the opportunity to receive a loan approval within 1 business day of timely submission of documentation and does not suggest that the borrower will receive funding on the same day as their application submission. Guaranteed Rate cannot guarantee that a loan will be approved or that a closing will occur within a specific timeframe. Applicant subject to credit and underwriting approval. Restrictions apply. Visit rate.com/same-day-mortgage for terms and conditions.
4 Approval may be granted in five minutes but may be subject to verification of income and employment. Five business day funding timeline assumes closing the loan with our remote online notary. Funding timelines may be longer for loans secured by properties located in counties that do not permit recording of e-signatures or that otherwise require an in-person closing. In addition, funding timelines may be longer if we cannot readily verify that your property is in at least average condition with no adverse external factors with a property condition report and may need to order a desktop appraisal to confirm the value of your property.
C. Allen Smith has spent nearly two decades as a writer in marketing, advertising and public relations. He has spent the last five years learning the ins and outs of the mortgage industry at Guaranteed Rate. 
SPONSORED CONTENT