Skeptics Pan UWM's 1% Down Loan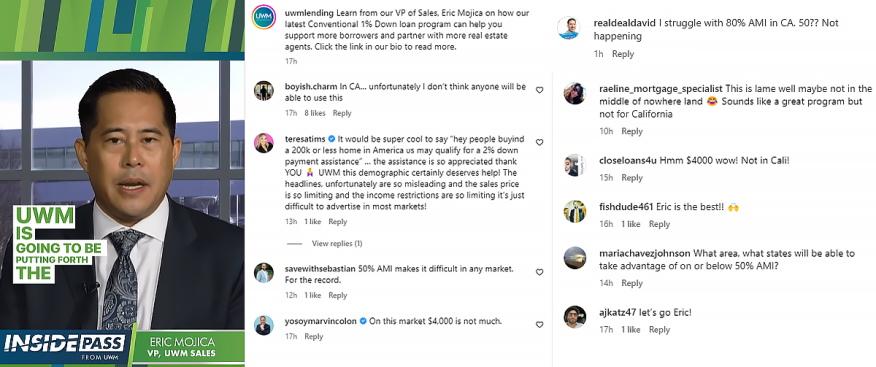 Say loan restrictions severely limit number of qualified borrowers.
KEY TAKEAWAYS
The program is limited to homebuyers with income at or below 50% of the Area Median Income (AMI)
When United Wholesale Mortgage (UWM) launched its 1% down-payment program earlier this week, it proclaimed it as another way to "give independent mortgage brokers a competitive edge with borrowers and real estate agents, while also helping make homeownership more affordable and accessible for borrowers across the country."
Mortgage brokers across the country, however, are skeptical.
UWM, the nation's leading wholesale company, said that while borrowers would put 1% down, it would contribute an additional 2% — capped at $4,000 — for a total of 3% for the down payment.
Watch The Interest
In addition, the program is limited to homebuyers with income at or below 50% of the Area Median Income (AMI), and to a 97% loan-to-value (LTV) ratio.
Those limits had MLOs scoffing on social media, saying the program's scope is too narrow to help most borrowers.
One skeptic is Rayce Robinson, senior mortgage loan officer and managing member with Mid-Florida Mortgage Professionals in Oviedo, Fla.
In an Instagram video labeled "Debunked — New 1% Down Conventional Loan," Robinson says the program "is actually not that great."
He continues, "They put a big caveat on it, which is you have to be making 50% of the area median income to qualify."
He notes that the AMI in central Florida is about $70,000, "which means you need to be making $35,000 a year or less to qualify for that program. Which means you're going to be looking at houses, even if you make that income, maybe at $150,000, $160,000, which just in really any market in the country, and for sure in central Florida, it's just not going to be able to help that many people, and maybe none at all."
He adds, "So, again, not a great program, at least not the way it is now."
Robinson isn't the only skeptic. Some shared their criticisms to an Instagram video by UWM featuring Eric Mojica, vice president of UWM sales, touting the program.
"This is lame well maybe not in the middle of nowhere land (laughing tears emoji)." commented Raeline Lascano Bentson, who identifies herself as "raeline_mortgage_specialist." She adds, "Sounds like a great program, but not for California."
Marvin Colon, CEO of Mortflix Media, a streaming service for the housing industry based in Orlando, Fla., agreed. He also commented on Mojica's video, stating, "On this market, $4,000 is not enough."
That prompted a reply from Andrea Brusco, owner and president of Prime Choice Lending LLC in Kissimmee, Fla., who wrote, "and also 50% AMI. I don't see it happening."
Jun Zhu, a clinical assistant professor with the finance department at Indiana University in Bloomington and a nonresident fellow with the Housing Finance Policy Center at the Urban Institute, said it's difficult to say how many people the program can actually help.
"It really depends on the area," she said in an interview with NMP. "And I do not want to speculate how many homebuyers can be helped, because it's really local. It really depends on the population that needs to be helped and the local AMI."
Comments on NMP's Instagram post about the program also were overwhelmingly negative, with one person calling the program "worthless" and another stating, "Max 4K pretty useless tbh."
UWM did not immediately respond to a request for comment on the reaction to the program..
In an interview with NMP on Wednesday, when the program was launched, Alex Elezaj, a UWM director and chief strategy officer, said the goal is to help as many people as possible.
"We're essentially giving customers to take advantage of this loan a $4,000 grant as a community investment," he said. "Affordability and inflation issues mean that people need help getting into affordable homes. And we don't change the mortgage rate to subsidize us providing that 2% down."