Carissa Robb Says Tech Would Have Better Prepared Mortgage Industry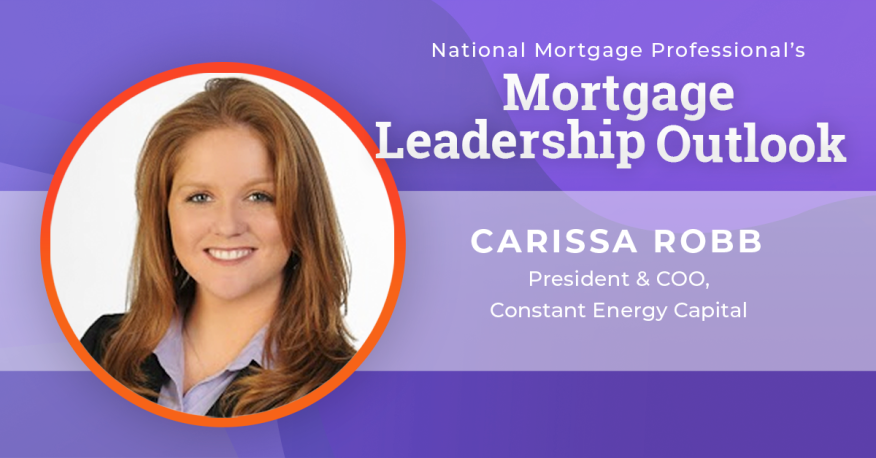 The
Mortgage Leadership Outlook series
kicked the week off on Monday with Carissa Robb, president and chief operating officer of
Constant
. Robb joined the series' host Andrew Berman, head of engagement and outreach for NMP magazine, for a discussion on what her company has seen during the coronavirus pandemic and what the future may hold.
As the COVID-19 pandemic continues to pose challenges for the mortgage industry, the Mortgage Leadership Outlook series is designed to help you, the mortgage professional, navigate the evolution of the industry as it copes with the effects of the coronavirus.
A key point Robb focused on is better preparation with technology could have helped the mortgage industry with the forbearance crisis and other issues. Part of the problem is staffing. As foreclosure and default rates dropped, servicers moved staff out of their loan mitigation departments.
"I'm not sure we made enough progress on the technology side so that in the event of another crisis we were a bit more prepared. That part looks very similar to 2008," Robb said in her interview with Berman. "Our response to an influx of hardship could have looked a bit different if we had invested our time into technology."
More Highlights From The Interview
►The mortgage industry needs to embrace the process of automation, data aggregation and analysis that's been applied on the front end, and apply it after completing the initial origination. "You can use those in combination to get a picture of your borrower who is looking for help," Robb said.
►Automation in the form of chatbots and other artificial intelligence needs to be empathetic. "You have to have the human component in there," she said, adding any automation solution must not lose that engagement. "You want them to think a human is behind the chatbot," Robb said.
►AI can be an effective means for developing subjective reviews of applications, Robb said. She said it could be used to analyze a set of data points a human might not. As an example, she said a human reviewing an application from a self-employed person might have a bias because the potential borrower isn't able to supply two months of paychecks. "Artificial intelligence can go on a different path based on the consumer," Robb explained.
Check out the entire chat between Robb and Berman in the video below.