Luna Forecasts Bright 2020 Despite Pandemic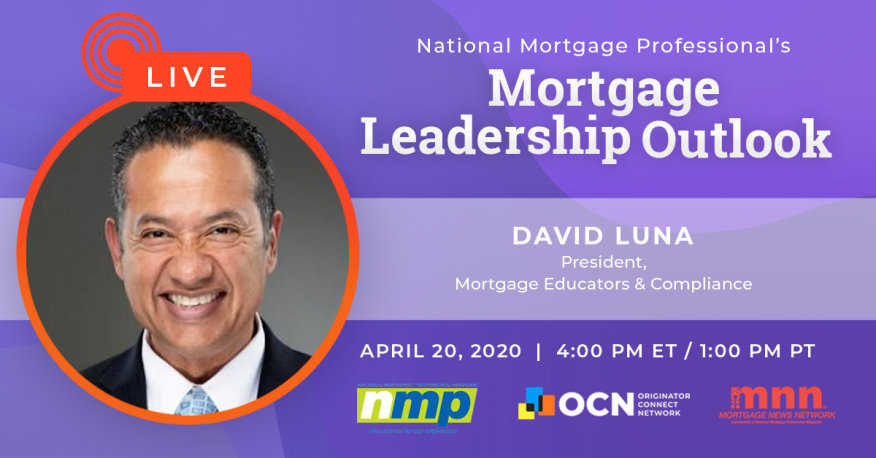 Luna explained to series host Andrew Berman, head of engagement and outreach for National Mortgage Professional magazine, that despite the specter of uncertainty that is COVID-19, he sees 2020 as a time of expansion and positivity for the industry.
"The industry will have a phenomenal 2020, taking this pandemic into account, everything is looking really good for the future," said Luna. "Your 2020 is going to be absolutely phenomenal. You think you saw good interest rates at the beginning of the year? You have not seen them yet. Wait until the second and third quarter of 2020. If you guys don't have your pipelines full, there is something wrong."
Other Highlights Of The Interview
►"We are in a recession right now—whether it is a coronavirus-induced recession or not—it's going to be short-term," said Luna. "When we are out of it, in our 'New Normal,' and it may take a while to get back up to speed, but in our new normal, things will be fabulous this year and the next few years."
►"As of today, non-QM lenders are starting to come back. I am having private conversations, so I cannot mention any names, but there are those who have already ventured out publicly today. But yes ... it is coming back. It may not be as aggressive as we have seen before, but they are coming back out there, dipping their toe in the water. You are going to see it, and it will look a lot like conforming, but not for everybody."
►Many in the industry have taken this time of pandemic to further their education by taking many of Mortgage Educators and Compliance's NMLS-required online CE offerings. "This has been a record year for us," said Luna. "People are sitting home and saying, 'If I have to stay home, I will take my CE.'"
You can learn much more about Luna, his participation in one of the first paperless mortgage transactions some 20 years ago, his views on technology and artificial intelligence in the industry, and his perspective on mortgage forbearance by checking out the complete interview below.