Tedesco Says Quick Tech Advancements Helping Appraisal Nation During Pandemic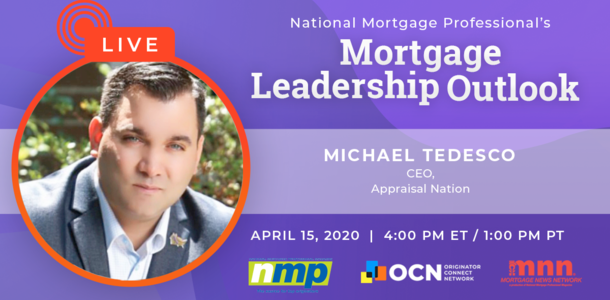 Michael Tedesco, CEO of
Appraisal Nation
, was the guest of
National Mortgage Professional
magazine's
Mortgage Leadership Outlook series
on April 15. He discussed the challenges facing the appraisal industry during COVID-19's pandemic with series host Andrew Berman, head of engagement and outreach for National Mortgage Professional magazine.
The
Mortgage Leadership Outlook series
features some of the top names in the mortgage industry giving their commentary on the current state of the industry as it navigates through the COVID-19 pandemic.
According to Tedesco, the quick roll-out of new technology has helped Appraisal Nation continue with its high volume of appraisals. Just this week, the North Carolina-based business debuted HomeLink in response to the pandemic.
Tedesco explained to Berman Appraisal Nation's new technology that allows a virtual walk-through of a property. When an exterior or desktop appraisal is performed, the homeowner receives a link via e-mail. It allows questions to be answered and the submission of photos. Appraisal Nation compiles the submitted info and sends it to the appraiser to complete the property valuation.
The advantage of the new technology, which was completed in response to the Coronavirus pandemic, is that it allows the homeowner to show additional features without needing to let an appraiser into the property. Tedesco explained that it enhances the appraiser's ability to make decisions based on the homeowner's feedback.
Tedesco further explained that technology has built-in protections. Each photo is geocoded with date, time and precision location information embedded. It prevents old photos from being uploaded.
"We made the decision to include this feature for all of our clients, all of our lenders, 100 percent free. We recognize this crisis is impacting everyone. The last thing we want to do is raise fees for the homeowner," said Tedesco, who co-founded Appraisal Nation in 2006. The company now employs more than 120.
The company is also paying its network of 26,000 appraisers full fees, despite only doing exterior and desktop evaluations. "They're still doing a lot of work and including the interior information," Tedesco explained. "Like a lot of us, they are facing challenges, so we are paying them full fees."
The HomeLink product is keeping both homeowners and the appraisers safe. Tedesco said there had been understandable pushback from homeowners who are unwilling to have assessors, who travel extensively, enter their properties.
"If they both agree and they're comfortable, they will complete the full evaluations. Otherwise, the appraiser will use the exterior along with the Home Link feature," Tedesco said, adding the HomeLink feature works exceptionally well when the appraiser and the homeowner can't have the face-to-face conversations they used to.
You can learn about the HomeLink technology and more by checking out Tedesco's complete interview with Berman below.
See all the interviews from the Mortgage Leadership Outlook series on its
YouTube channel
.
---