MBA's Mortgage Action Alliance: "The LARGER the Group, the LOUDER the Voice"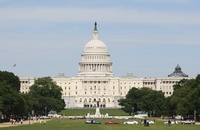 My political advocacy and involvement in our industry first started when I was selected to participate in the Mortgage Bankers Association's (MBA), "Future Leader Program." Not long after, I was asked to join the Mortgage Action Alliance (MAA) as way to speak up about issues that impacted me as a mortgage banker. My MAA membership not only allowed me to stay up-to-date on the legislative and regulatory policies facing our industry, but it made it easy for me to contact my members of Congress when it was necessary. I found that it also allowed me to develop a greater understanding of how the decisions made in Washington, D.C. were impacting the business I conducted at home. The awareness of how industry and politics intertwine commanded me to attend the MBA's National Advocacy Conference in Washington, D.C. where I was able to discuss all facets of our industry with members of Congress, face-to-face, in meaningful conversation. I am able to champion the knowledge needed by key Congressional leaders because I am aware of and current on the challenges that we face. Today, I am the proud chairwoman of the Mortgage Action Alliance Steering Committee and through my involvement with MBA, MAA and the National Advocacy Conference, I have developed strong relationships with members of Congress and their staff and am a vocal advocate for our industry. Established in 2005 by MBA, MAA is the voluntary, non-partisan and free nationwide grassroots lobbying network of real estate finance industry professionals. MAA is dedicated to strengthening the industry's voice and lobbying power in Washington, D.C. and state capitals across the country. Simply put, a robust grassroots lobbying program, consisting of individuals willing to communicate and build relationships with legislators, is necessary for any group or association wanting to change or affect legislative and regulatory policies. Grassroots communication can take many forms: Letters, phone calls, e-mails and even face-to-face meetings with legislators. The key is to have a significant group of dedicated, informed and consistently active individuals become the voice of that organization in the minds of elected officials. Grassroots is all about the numbers. Although affiliated with the MBA, you do not need to be an MBA member to take part in the MAA. MAA enables you to speak directly with your members of Congress, state legislators and federal regulators about the impact of proposed legislation or regulations on your business. With residential, commercial and multifamily issues on the Congressional and state legislative agendas, your political activism is vital. MAA membership is currently over 5,400 members strong. Together, we've sent nearly 7,000 communications to Congress in the last nine months. MAA is a pipeline for political advocacy. You are a voter, an employer and a constituent. Your voice matters. But it is critical that you use it. MBA can do its part in Washington, D.C., but Congress needs to hear from us—the mortgage bankers in the hometowns who are their friends, neighbors and constituents. I encourage you to become a member of MAA and join me on the frontline as we speak up to Congress about the many issues that face our industry. Whoever you are, whatever your title, whatever your position in the industry, this is your chance to have a voice. As we look ahead to 2014, the year of implementation, and when Congress will likely make decisions about reforming the GSEs and the FHA, we need you now more than ever. Join us … the larger the group, the louder the voice. Amy Swaney, CMB is governmental relations officer and branch manager with Scottsdale, Ariz.-based Citywide Home Loans. Amy is also chair of the Mortgage Action Alliance (MAA), a voluntary, non-partisan and free nationwide grassroots lobbying network of real estate finance industry professionals, affiliated with the Mortgage Bankers Association (MBA). Amy may be reached by phone at (480) 822-6262, ext. 2164, e-mail
[email protected]
or visit http://mba.org/Advocacy/MortgageActionAlliance.