Home Prices Rise Again While Nashville Boasts Strongest Recovery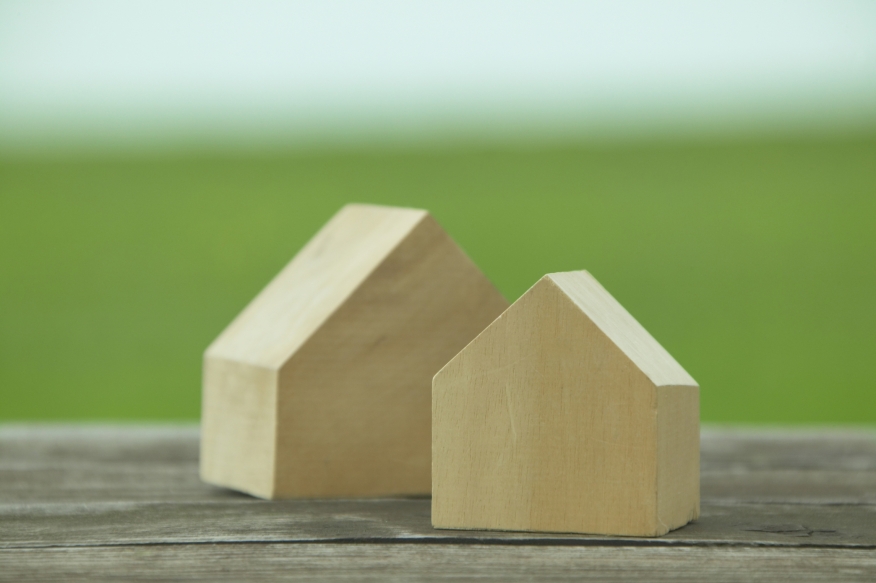 New data from the S&P/Case-Shiller Home Price Indices affirmed a continued rise in home prices across the country, while a study released by SmartAsset has crowned the nation's country music capital as the best recovered market in the years following the housing crash.
The latest S&P/Case-Shiller numbers found the 10-City and 20-City Composites experiencing larger year-over-year increases in February compared to January. The 10-City Composite gained 4.8 percent year-over-year, up from 4.3 percent in January, while the 20-City Composite gained five percent year-over-year, compared to a 4.5 percent increase in January. Both the 10- and 20-City Composites reported 0.5 percent month-over-month increases, their largest increase since July 2014.
Denver and San Francisco reported the highest year-over-year gains with 10 percent and 9.8 percent increases, respectively. This was especially significant for Denver, which has not had a double-digit increase since August 2013. Seventeen cities reported higher year-over-year price increases in the year ended February 2015 than in the year ended January 2015, while three cities—San Diego, Las Vegas and Portland, Ore.—reported that the pace of annual price increases slowed.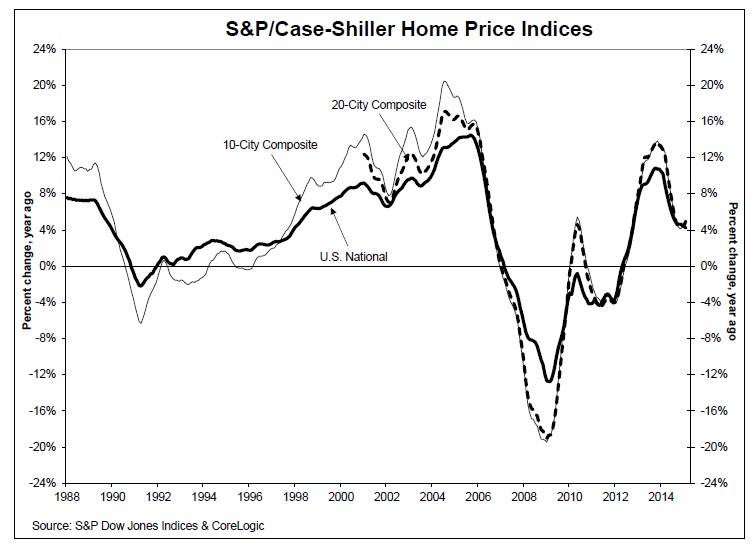 However, the 4.2 percent annual gain in February that was recorded by the S&P/Case-Shiller U.S. National Home Price Index was weaker than the 4.4 percent increase in January. But the National Index enjoyed a 0.1 percent month-over-month increase.
David M. Blitzer, managing director and chairman of the Index Committee at S&P Dow Jones Indices, warned that the increase in home prices is out of sync with other key economic factors.
"Home prices continue to rise and outpace both inflation and wage gains," Blitzer said, adding that while prices were recovering, "new construction of single family homes remains very weak despite low vacancy rates among both renters and owner-occupied homes."
Separately, a new study by SmartAsset on the cities that experienced the strongest housing recoveries found the South and the West bounced back to health with gusto. Four of the top ten cities with the strongest housing recoveries can be found below the Mason-Dixon Line, with Nashville leading the list via house prices that are now 11 percent higher than they were before the crisis.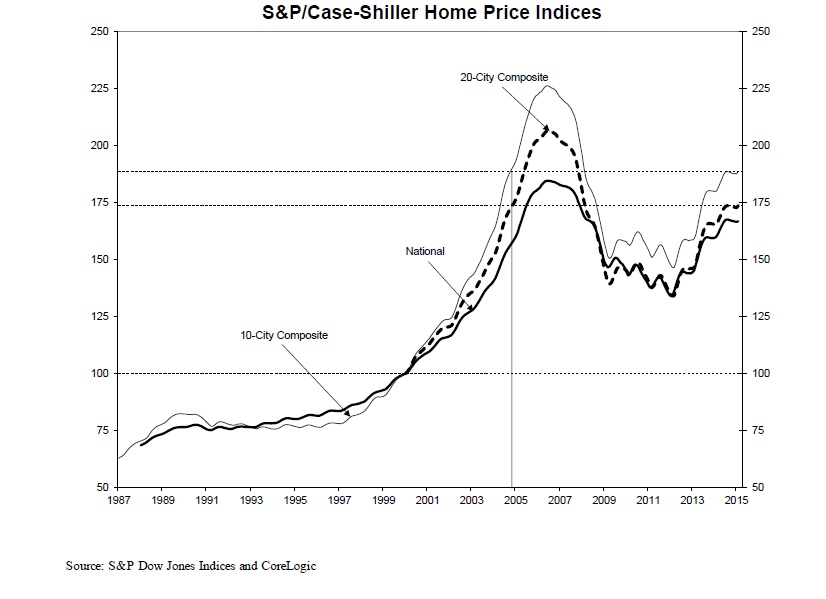 Also experiencing a vibrant rebound were San Francisco (with a 9.9 percent increase), Honolulu (9.1 percent), San Jose (4.2 percent), Columbus, Ohio (3.4 percent), Raleigh, N.C. (2.3 percent). The remaining cities in the top ten were all below their pre-recession levels, albeit at a relatively slight percentage: Charlotte (-1.1 percent), Philadelphia (-1.3 pecent), New Orleans (-1.3 percent) and Colorado Springs (-1.6 percent).
SmartAsset noted that 81 of America's 100 largest urban housing markets saw prices decline at least 10 percent between 2007 and 2011, with over half of those markets experiencing a decline of at least 20 percent.