New Data Points to Improving But Shaky Housing Market
A trio of data reports charting the housing market volume and homebuyer attitudes suggests that the recovery is on the way—albeit occurring later rather than sooner.
On the homebuyer front, a new survey conducted by Chase found three in 10 individuals plan to buy a home in the next 18 months. Nearly two-thirds of the interested buyers believed today is a better time to buy a residential property compared to last year, with 32 percent of respondents eager to take advantage of the current interest rates and 20 percent stating that rising rental costs make homebuying a more attractive housing option.
However, 35 percent said that they would delay a home purchase if the 30-year fixed mortgage interest rates goes above 4 percent, and nearly 70 percent of prospective homebuyers believed that they waited too long and are now facing a market with quickly rising home prices.
 "Buyers are clearly concerned about housing inventory and rising prices, especially during the competitive spring buying season," said Cecelia Barbieri, senior vice president of marketing for Chase Mortgage Banking. "But the research shows that interested buyers are optimistic and ready to act on their goals. In fact, 73 percent said they'd give up things like eating out and taking vacations in order to buy their dream home."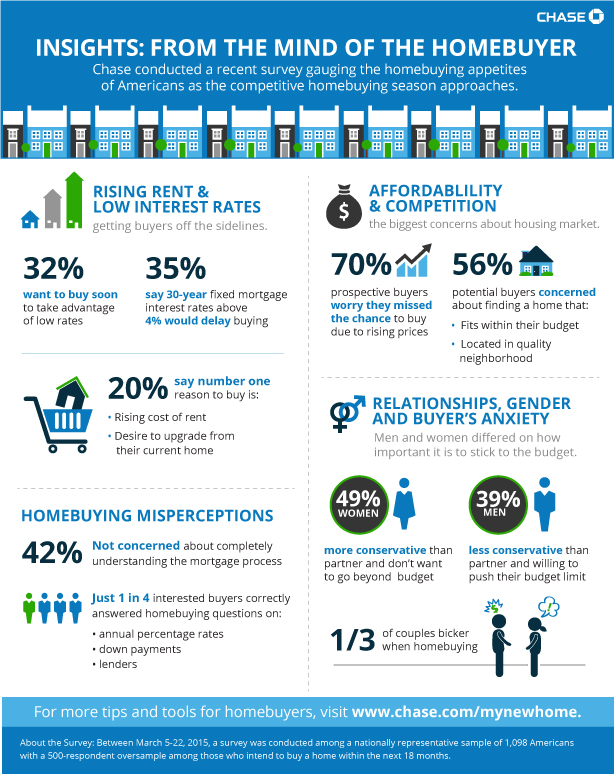 Separately, the latest Origination Insight Report from Ellie Mae found that the lenders' share of mortgage purchase volume increased for the first time in 2015, up 5 percent in March. Ellie Mae found that purchases constituted 46 percent of lenders' overall volume in March, mortgage refinancing volume representing 53 percent.
"As many anticipated, purchase loan activity is gaining momentum as the housing market enters the peak spring buying season," said Jonathan Corr, president and chief executive officer of Pleasanton, Calif.-based Ellie Mae. "This, along with the slightly higher than expected origination volume the industry is seeing, likely contributed to the rise in days to close."
In another data report, Truckee, Calif.-based Clear Capital issued its latest Home Data Index Market Report and found home prices through April 2015 up 5.1 percent year-over-year, while the quarterly rate of growth was 0.5 percent. April marked last the sixth consecutive month of softening quarterly appreciation, according to Clear Capital's data, which also found the Midwest region experiencing negative quarterly declines of -0.10 percent.
Elsewhere in the country, Clear Capital found three Florida markets—Miami, Jacksonville and Tampa—that are ranked among the top performers also have the high levels of distressed saturation (REO and short sales), with rates that are at least 10 percentage points higher than the national level.
"While spring brings renewed confidence and demand, the numbers through April are mixed," said Alex Villacorta, vice president of research and analytics at Clear Capital. "Sales may be up, but subsiding gains imply the recovery is at a critical inflection point. As the market normalizes—a good thing for housing overall—small losses could have greater impact, forcing a standstill or even worse, a return to negative territory in certain areas across the country. Confidence is down in April, suggesting consumers aren't quite convinced that the economy, much less housing, is as rosy as some early spring metrics suggest."