Carrington Continues to Help Build Homes for Severely Wounded Veterans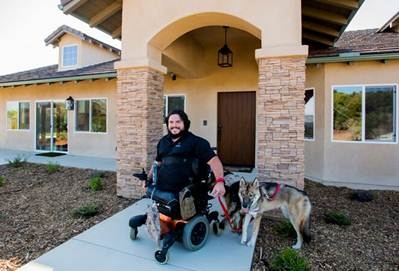 The Carrington Companies and the Carrington Charitable Foundation (CCF) are pleased to announce the fifth home in its 2015 series of builds has been delivered to USMC SSgt. Jason Ross and his family in the San Diego area. Carrington and CCF in collaboration with the Gary Sinise Foundation have delivered 10 homes since the inception of the partnership in 2014 to catastrophically wounded Heroes of the Iraq and Afghanistan conflicts and their families across the United States.
Carrington's donation of project management and real estate development services, and donations from the Carrington Charitable Foundation, contributed to the completion of five custom homes in 2014, and five to date for 2015. Each home is designed to ease daily living challenges with features like home automation, modified home access points inside and out, specially designed kitchens and bathrooms and more, in an effort to make daily life just a bit easier for the Veterans and their families or caregivers.
The 5th Annual Carrington Charitable Foundation Golf Classic on October 12th (Columbus Day) at the Resort at Pelican Hill in Newport Coast, California is expected to raise nearly $2 million to support CCF's own Carrington House program, the Veterans Airlift Command, and CCF's collaboration with the Gary Sinise Foundation. The event will serve as one of CCF's largest public fundraising programs supporting our work in 2016. Through the generosity from supporters since its inception five years ago, CCF's Annual Golf Classic has raised over $6 million. To date this year's event has already raised over $900,000 through sponsorships and donations, with many donor and sponsor opportunities still available.
To celebrate its fifth year in style, CCF is hosting Gary Sinise's Lt. Dan Band in concert at the National Grove in Anaheim, Calif. The 12-member band, including Gary, covers hits from every genre in support of our nation's defenders and first responders and their families who have sacrificed so much fighting to protect our Freedom.
"We are really looking forward to our 5th annual event, the best yet to benefit our wounded Veterans and their families," said Rosemary Rose, Carrington Charitable Foundation's chairman of the board. "We owe a tremendous debt of gratitude and support to America's Heroes. The effort of CCF and support of our donors, partners, friends and families are one way that we give back to our extraordinary Heroes and their caregivers who truly deserve a place to call home."