New Data Finds a Partly-Sunny Housing Climate
The latest housing data offers a very mixed picture, with homeownership numbers showing a two-steps-forward/one-step-back environment while the multifamily sector continues to reap the benefits of a fast-growing rental scene.
First, the semi-good news: Existing-home sales increased 4.7 percent to a seasonally adjusted annual rate of 5.55 million in September from a slightly downwardly revised 5.30 million in August, according to new data from the National Association of Realtors (NAR). This sector of sales volume is now 8.8 percent above its September 2014 level.
However, those seeking affordable homeownership options are dealing with fast-rising prices. The median existing-home price for all housing types in September was $221,900, which is 6.1 percent above the September 2014 level of $209,100. NAR added that last month's price increase was the 43rd consecutive month of year-over-year gains.
And complicating matters was the lack of available properties: the total housing inventory at the end of September decreased 2.6 percent to 2.21 million existing homes available for sale, and is now 3.1 percent lower than the 2.28 million existing homes that were available a year ago. Not surprisingly, first-time buyers fell to 29 percent of sales in September, down from 32 percent in August and unchanged from September 2014.
"Despite persistent inventory shortages, the housing market has made great strides this year, backed by an increasing share of pent-up sellers realizing the increased equity they've gained from rising home prices and using it towards trading up or moving into a smaller home," said Lawrence Yun, NAR's chief economist. "Unfortunately, first-time buyers are still failing to generate any meaningful traction this year."
At least potential homebuyers can take advantage of historically low interest rates. Freddie Mac's latest Primary Mortgage Market Survey (PMMS) found the 30-year fixed-rate mortgage (FRM) averaged 3.79 percent with an average 0.6 point for the week ending Oct. 22, down from last week when it averaged 3.82 percent. A year ago at this time, the 30-year FRM averaged 3.92 percent. The 15-year FRM this week averaged 2.98 percent with an average 0.5 point, down from last week when it averaged 3.03 percent. At this time last year, the 15-year FRM averaged 3.08 percent.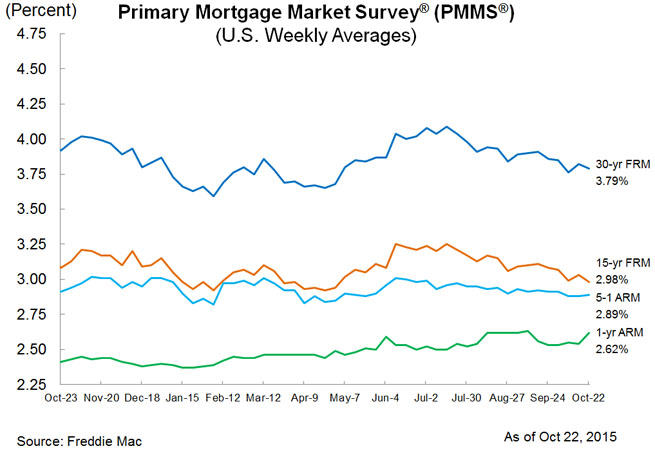 But not everything was in decline. According to Freddie Mac, the five-year Treasury-indexed hybrid adjustable-rate mortgage (ARM) averaged 2.89 percent this week with an average 0.4 point, up slightly from last week when it averaged 2.88 percent; it averaged 2.91 percent a year ago. And the one-year Treasury-indexed ARM averaged 2.62 percent this week with an average 0.2 point, up from 2.54 percent last week. At this time last year, the one-year ARM averaged 2.41 percent.
There was also encouraging news on the servicing side of the industry, albeit with caveats. HOPE NOW reported that foreclosure sale activity in August was at its lowest level since the alliance began collecting data in 2007, with approximately 27,000 for the month. But the month offered mixed results, with some progress in the month-over-month measurements from July–loan modifications down three percent, short sales down 12 percent, foreclosure sales down seven percent–as well as areas in need of improvement–deed in-lieu and serious delinquencies were unchanged and foreclosure starts were up six percent.
"Serious delinquency still affects more than 1.5 million borrowers–something that everyone should be paying attention to–although this number is close to pre-crisis figures," warned Erik Selk, executive director at HOPE NOW.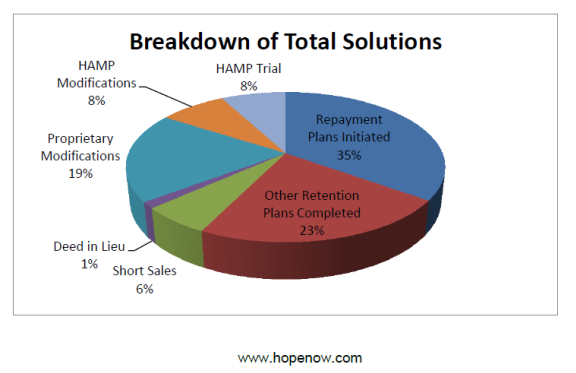 While problems remained within the homeownership sector, lenders active on the rental side of the industry have been enjoying a full-steam-ahead trajectory. The Mortgage Bankers Association's (MBA) 2014 Commercial-Multifamily Annual Origination Volume report found that nearly 3,000 different multifamily lenders provided a record-breaking $195.1 billion in new mortgages for five-plus-unit apartment buildings last year, a 13 percent year-over-year spike. By dollar volume, more than one-third of origination total went to commercial bank, thrift and credit union portfolios.  
"The lending came from a range of lenders with two-thirds making five or fewer multifamily loans during the year and went to a range of borrowers, with more than one-quarter of the loans being for $500,000 or less," said MBA Vice President of Commercial Real Estate Research Jamie Woodwell, who added that the 2015 volume "shows every sign of breaking last year's record."