MLO Debra Castellano Joins GSF Mortgage's Nashville Team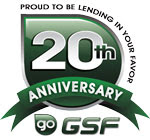 GSF Mortgage has announced the addition of Debra Castellano as mortgage loan originator in Nashville, Tenn., joining GSF with 25 years of mortgage and real estate experience. Castellano and her husband both worked in the mortgage industry. Her husband grew up as a builder and eventually transitioned to the mortgage industry as a closer. Castellano started as a processor before becoming an LO. She owned her own company in St. Louis for five years and moved to southern Illinois where she originated for three different branches. In 2013, they moved to Tennessee to be with family.
Castellano builds many real estate agent relationships through her husband and community. Castellano enjoys being a mortgage loan originator because she feels that the best thing she can do is help someone obtain their dream of homeownership.
"I am pleased to welcome Debra to our team," said GSF Mortgage National Sales Director Mike Maida. "Her extensive knowledge of the industry paired with her customer service makes her an asset to our family. We are looking forward to helping her grown in her market."
 
Subscribe to the nmp Daily