Zillow Points First-Time Homeowners to Indianapolis
First-time home buyers looking for a great deal should consider Indianapolis, according to new data from Zillow, which crowned that Hoosier State metro as the nation's best market for neophyte homeowners.
Zillow determined that Indianapolis home buyers can expect to spend 11 percent of their income on a monthly mortgage payment, which four percentage points below the national average. But those savings do not carry over for renters, who can expect to spend 26 percent of their income on monthly rent.
Joining Indianapolis in the top 10 list of best markets for first-time home buyers are Pittsburgh, Memphis, Cleveland, Chicago, Oklahoma City, St. Louis, Houston, Tampa and Birmingham, Ala. At the other end of the spectrum, markets including San Jose, Seattle and Austin were cited as being among the hardest places for first-time home buyers to get a house.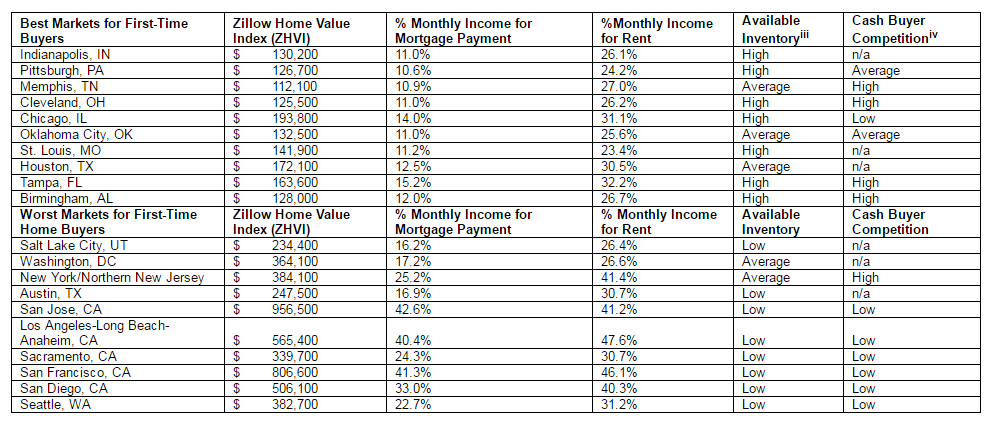 "Buying your first home is a big decision that takes a lot of planning," said Zillow Chief Economist Svenja Gudell. "First-time buyers across the U.S. are up against high prices and low inventory, but these are the places where the availability of affordable, entry-level homes and the presence of cash-buyers are less of an issue. First-time buyers in these markets won't have to deal with as many bidding wars or run-away prices; they'll be able to find a first home that fits their needs with less stress. With record low mortgage rates, it's a good time to buy a home and certainly worth considering."   
However, home buyers—first-time and otherwise—were not in the market for property last week. The Mortgage Bankers Association's Weekly Mortgage Applications Survey for the week ending April 22 found the Market Composite Index down 4.1 percent on a seasonally adjusted basis and down three percent on an unadjusted basis compared with the previous week. The seasonally adjusted Purchase Index decreased two percent from one week earlier, while the unadjusted index decreased one percent compared with the previous week, but was nonetheless 14 percent higher than the same week one year ago. And the Refinance Index decreased five percent from the previous week as the refinance share of mortgage activity decreased to 54.4 percent of total applications from 55.4 percent the previous week.