Today's Housing Data: Up, Down, Up and Go to Texas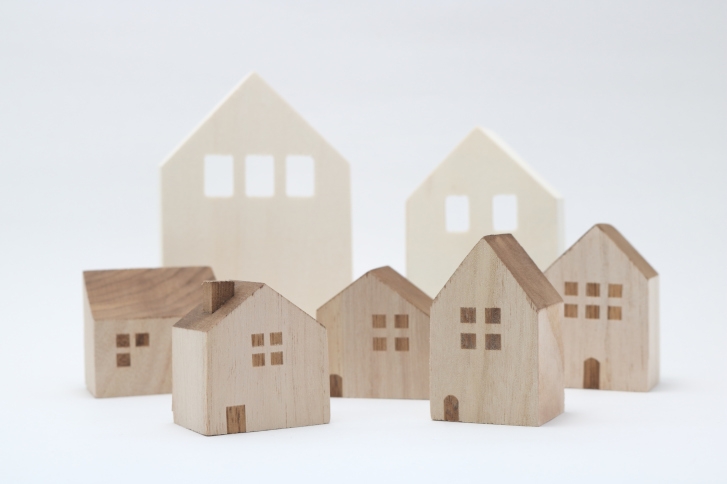 Mortgage rates are up, but mortgage credit availability is down while houses are being flipped and Millennials are being encouraged to move to the capital of the Lone State State. Yes, it's another active day in the housing data world.
Freddie Mac's Primary Mortgage Market Survey (PMMS) found the 30-year fixed-rate mortgage (FRM) averaged 3.66 percent for the week ending June 2, up from last week when it averaged 3.64 percent. The 15-year FRM this week averaged 2.92 percent, up from last week when it averaged 2.89 percent. And the five-year Treasury-indexed hybrid adjustable-rate mortgage (ARM) averaged 2.88 percent this week, up from last week when it averaged 2.87 percent.
Sean Becketti, chief economist at Freddie Mac, welcomed the good news but wondered aloud if it would have any lasting power. "Recent statements by the Fed appear to have persuaded the market that a rate hike may come sooner than later," he said. "However, the market is fickle, and Friday's employment report has the potential to swing opinion 180 degrees in the other direction."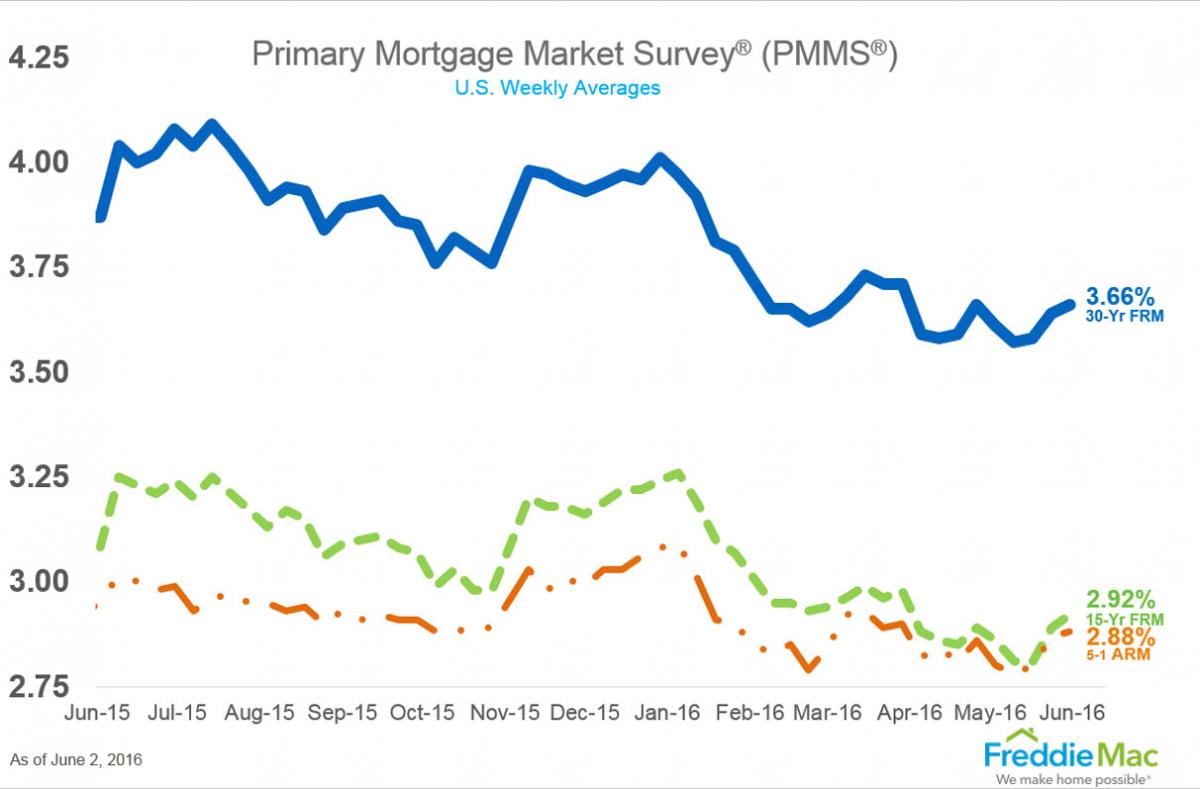 Separately, the Mortgage Bankers Association's Mortgage Credit Availability Index (MCAI) dipped by 0.8 percent last month to 121.4. All four component indices took a drop last month: the Jumbo MCAI was down 1.3 percent, followed by the Government MCAI (down one percent), the Conventional MCAI (down 0.8 percent) and the Conforming MCAI (down 0.3 percent).
"Credit availability decreased for the third consecutive month in May," said Lynn Fisher, MBA's vice president of research and economics. "Gains in credit availability caused by the continued roll-out of Fannie Mae and Freddie Mac low downpayment programs were offset by modest tightening among government loan programs that serve borrowers in high cost areas."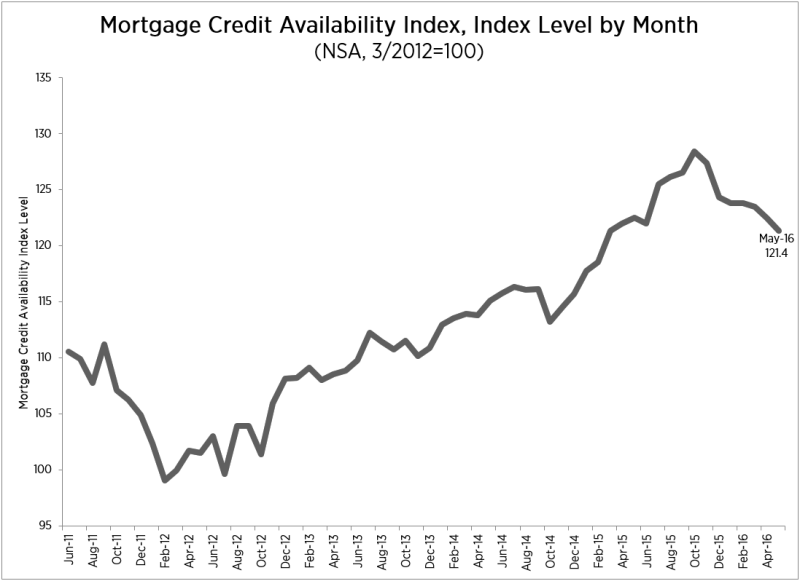 But as mortgage credit availability appeared to weaken, the passion for home flipping appeared to intensify. New data from RealtyTrac confirmed a 20 percent increase in home flipping from the fourth quarter of 2015 to the first quarter of this year; on a year-over-year measurement, home flipping increased by three percent. On the whole, 6.6 percent (43,740) of all single-family home and condo sales in the first quarter were flips.
Home flipping as a share of total sales in the first quarter increased from a year ago in 75 out of 126 major metro markets (or 60 percent) studied by RealtyTrac, with flipping activity reaching all-time highs in nine major metro markets including Baltimore, New Orleans and Buffalo, N.Y. Homes flipped in the first quarter yielded an average gross profit of $58,250, the highest average gross flipping profit since the fourth quarter of 2005.
"After faltering in late 2014, home flipping has been gaining steam for the last year and a half thanks to falling interest rates and a dearth of housing inventory for flippers to compete against," said Daren Blomquist, senior vice president at RealtyTrac. "While responsible home flipping is helpful for a housing market, excessive and irresponsible flipping activity can contribute to a home price pressure cooker that overheats a housing market, and we are starting to see evidence of that pressure cooker environment in a handful of markets."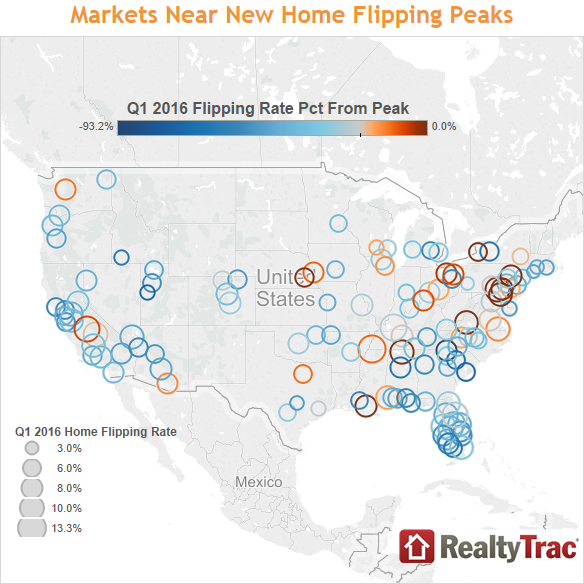 While home flippers have fun and profits in the housing market, at the other end of the homeownership spectrum are those ubiquitous Millennials, the much-desired newcomers to the scene. New data from the National Association of Realtors (NAR) identified the 10 best purchase markets for Millennials as, in alphabetical order, Austin, Texas; Charleston, S.C.; Denver; Minneapolis; Ogden, Utah; Portland, Ore.; Raleigh, N.C.; Salt Lake City; Seattle; and   Washington, D.C.
Lawrence Yun, NAR's chief economist, acknowledged that many Millennials face a difficult—but not impossible—task of securing affordable residential property in pricey metro markets.
"Even with potentially higher incomes, prospective millennial homebuyers residing in some of the most expensive cities in the country face the onerous task of paying steep rents while trying to save for an adequate down payment," he said. "However, for those currently living in or looking to move to a more affordable part of the country, there are metro areas right now with solid job growth and that offer a smoother path to homeownership."