Does Housing Have a Perception Problem?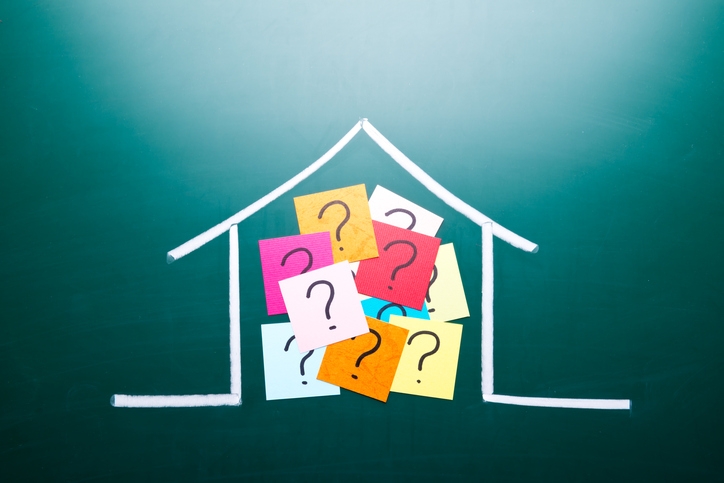 New data is pointing to another wave of positive activity for the housing market, but it appears that many people perceive the market is full of problems rather than solutions.
For starters, the Mortgage Bankers Association's (MBA) Weekly Mortgage Applications Survey for the week ending July 8 was full of mixed results. The Market Composite Index increased 7.2 percent on a seasonally adjusted basis from one week earlier, but it decreased by 14 percent on an unadjusted basis. Likewise, the seasonally-adjusted Purchase Index was unchanged from one week earlier, but the unadjusted index collapsed by 20 percent compared with the previous week and was five percent lower than the same week one year ago. However, the MBA noted that this new survey included adjustments for the July 4 holiday, which fell in the prior week last year.
The Refinance Index increased 11 percent from the previous week and the refinance share of the market rose to 64 percent of total applications from 61.6 percent the previous week. The government loan programs resulted in a slew of results: The FHA share of total applications increased to 10.0 percent from 9.5 percent the week prior while the VA share of total applications decreased to 12.1 percent from 12.8 percent and the USDA share of total applications remained unchanged at 0.6 percent the week prior.
Over on the valuation side of the market, Quicken Loans' latest Home Price Perception Index (HPPI) found home values assigned by appraisers last month were 1.93 percent lower than what homeowners estimated. This is slightly above May's HPPI level, when appraised values were 1.89 percent lower than expected.
This negative perception contradicted the data presented in Quicken Loans' Home Value Index (HVI) for June, in which the average home appraisal increased 0.84 percent since May and was up 4.47 percent from June 2015. But the HVI results were lopsided based on regional returns, with the West recording a 5.84 percent year-over-year increase in appraised value while the Northeast only saw a 2.07 percent rise.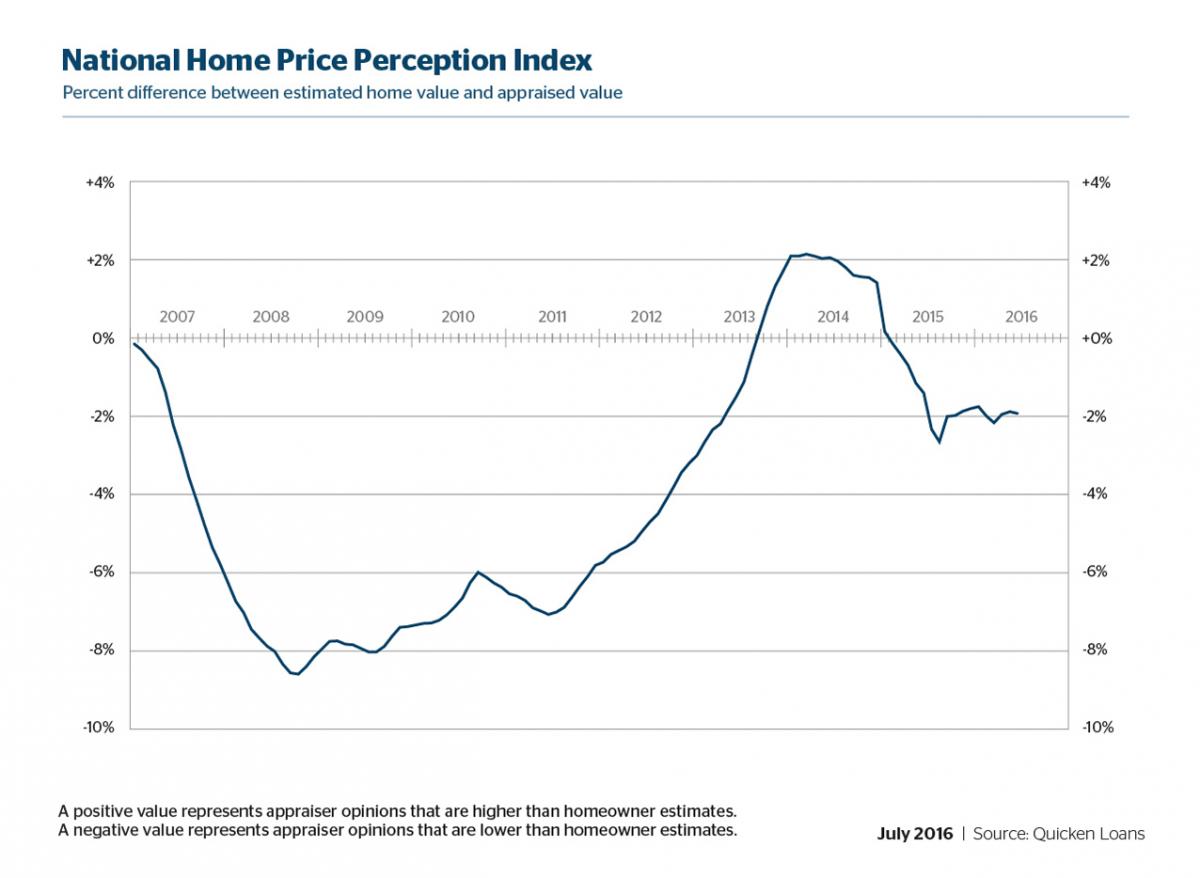 "Perception is everything—it can make or break a home sale or mortgage refinance," said Quicken Loans Chief Economist Bob Walters. "That's why it's so important for homeowners to realize how they perceive their home's value could vary widely from how an appraiser views it. If the estimate is lower by just a few percentage points, the buyer could need to bring as much as another several thousand dollars to the table to avoid having to restructure the loan."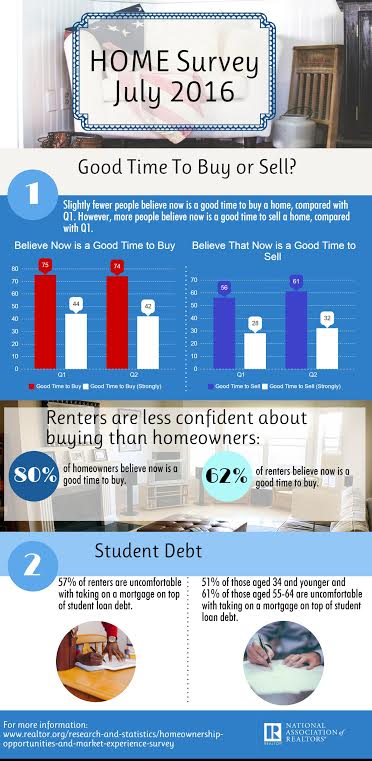 Perception difference also cloud the National Association of Realtors' (NAR) Housing Opportunities and Market Experience survey for the second quarter of this year, which found that 80 percent of homeowners (down from 82 percent in March) and 62 percent of renters (unchanged from last quarter) believe it is a good time to buy a house. In regard to personal financial health, the level of positive thought from all households dropped to 57.7 percent in the second quarter from 58.1 percent in the first quarter. And approximately two-thirds of non-homeowners and half of respondents under 35 with student debt said they were not comfortable over the prospect of carrying mortgage payments on top of their current fiscal responsibilities.
Lawrence Yun, NAR chief economist, acknowledged the uneven level of housing-related perception levels.
"Given these affordability pressures, it's no surprise respondents earning over $100,000 and those living in the Midwest—the most affordable region of the country—are the most optimistic about buying right now," Yun said.
But one area where reality has overpowered perception involves foreclosures. According to a new Zillow analysis, homes that were foreclosed during the housing crisis are now carrying roughly twice as much value as other homes. The average foreclosed home has risen 39 percent in value since the nadir of the last financial crisis, while the average U.S. home has risen 22 percent in value during the same period. Furthermore, many foreclosed properties in this period were purchased by investors and turned into rentals—the percentage of single-family homes being rented out grew from 13 to 19 percent over the past decade.
"Many lower-income Americans lost their homes during the foreclosure crisis, forcing them to pay ever-increasing rents and locking them out of the benefits of the housing market recovery," said Zillow Chief Economist Svenja Gudell.