Mortgage Credit Availability Up, Rates Down
Today's mortgage data news offers a mix of positive and not-positive developments.
First, the good news: The Mortgage Bankers Association's (MBA) Mortgage Credit Availability Index (MCAI) increased one percent to 165.3 in July. All four component indices saw increases last month: the Jumbo and Government MCAIs were both up 1.3 percent, followed by the Conventional MCAI (up 0.7 percent), and the Conforming MCAI (up 0.1 percent).
"The overall credit availability increase in July was driven by an uptick in programs that allow for refinancing among relatively lower credit score borrowers," said said Lynn Fisher, MBA's vice president of research and economics. "We observed this trend in both the conventional and government programs."
Fisher added that the MCAI is being updated to reflect a better measurement of data. "We are redefining our conforming and jumbo indices to be restricted to conventional loan programs only," she said. "Previously, conforming and jumbo status was determined solely by loan size.  In the new methodology, high balance FHA and VA loan programs are not included in the jumbo category."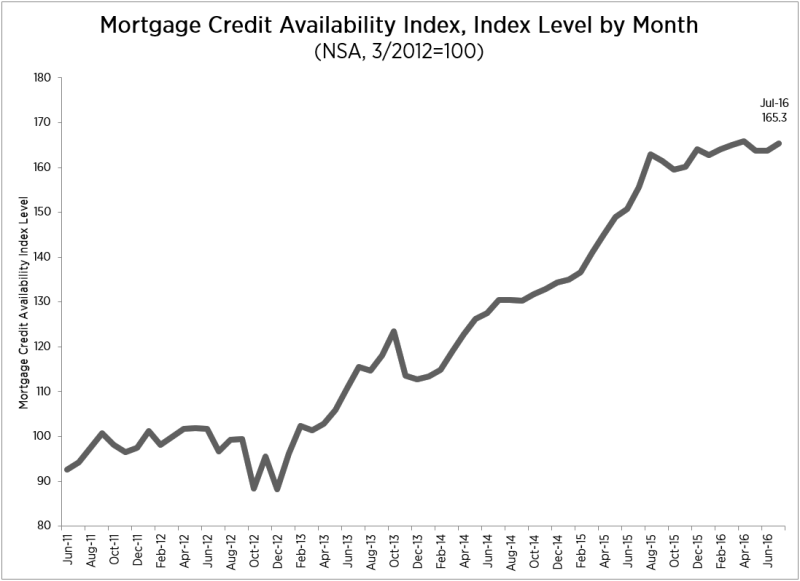 And now, the not-so-special news: Freddie Mac's Primary Mortgage Market Survey (PMMS) dipped after three weeks of minimal gains. The 30-year fixed-rate mortgage (FRM) averaged 3.43 percent for the week ending Aug. 4, down from last week when it averaged 3.48 percent. The 15-year FRM this week averaged 2.74 percent, down from last week when it averaged 2.78 percent. And the five-year Treasury-indexed hybrid adjustable-rate mortgage (ARM) averaged 2.73 percent this week, down from last week when it averaged 2.78 percent.
"Treasury yields fell last week following both the FOMC's meeting and a disappointing advance estimate for second quarter GDP," said Sean Becketti, chief economist at Freddie Mac. "Mortgage rates, which had moved up seven basis points over the past three weeks, responded by erasing most of those gains, falling five basis points to 3.43 percent this week for the 30-year fixed-rate mortgage. Mortgage rates have been below 3.5 percent every week since June 30. Borrowers are taking advantage of these low rates by refinancing. The latest Weekly Applications Survey results from the Mortgage Bankers Association show refinance activity up 55 percent since last year."