Mortgage Rates Climb as Existing Home Sales Tail Off in November
According to the latest Freddie Mac Primary Mortgage Market Survey (PMMS), the 30-year fixed-rate mortgage (FRM) averaged 4.08 percent with an average 0.5 point for the week ending Dec. 1, 2016, up from last week when it averaged 4.03 percent. A year ago at this time, the 30-year FRM averaged 3.93 percent. Also this week, the 15-year FRM averaged 3.34 percent with an average 0.5 point, up from last week when it averaged 3.25 percent. A year ago at this time, the 15-year FRM averaged 3.16 percent.
"The 10-year Treasury yield remained flat despite an upward revision to third quarter GDP," said Sean Becketti, chief economist for Freddie Mac. "The 30-year mortgage rate rose five basis points to 4.08 percent, rising a total of 51 basis points in three short weeks. With mortgage rates at the highest we've seen this year, borrowers are now backpedaling on refinance opportunities. The latest Weekly Applications Survey results from the Mortgage Bankers Association show refinance activity down 16 percent week over week."
Also this week, the five-year Treasury-indexed hybrid adjustable-rate mortgage (ARM) averaged 3.15 percent this week with an average 0.4 point, up from last week when it averaged 3.12 percent. A year ago, the five-year ARM averaged 2.99 percent.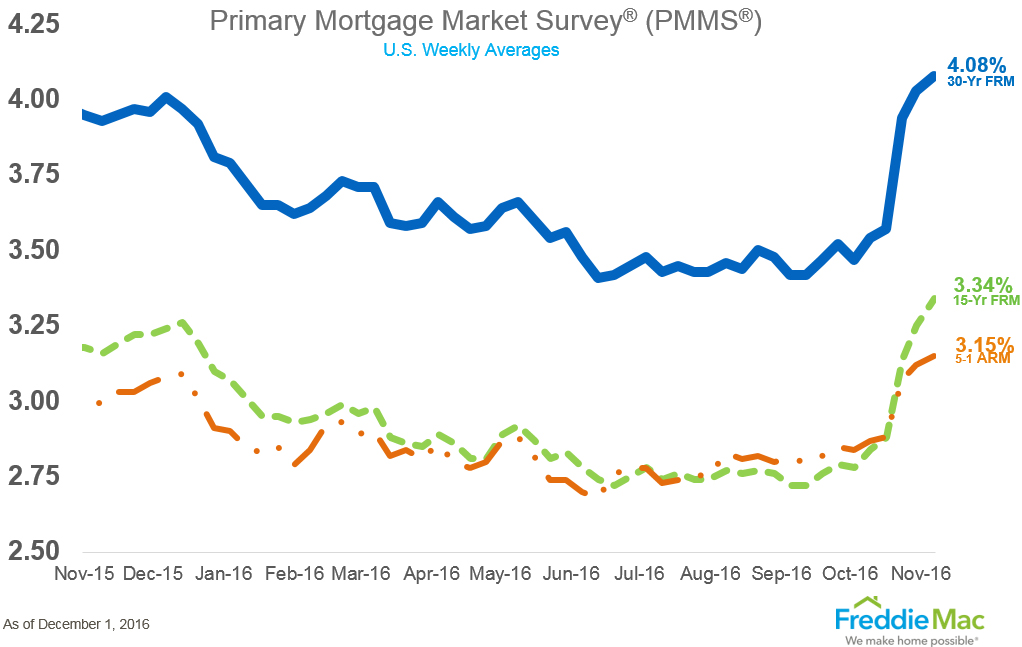 The latest Residential Real Estate Nowcast from Ten-X indicates a slight decrease in November existing home sales, with November sales falling between seasonally adjusted annual rates of 5.26 and 5.61 million, with a targeted number of 5.43 million—down three percent from October, yet still 1.1 percent above the year level just one year ago.
"There's been a lot of month-to-month volatility in both existing and new home sales recently, and a small drop-off in November after unexpectedly strong October existing home sales would simply continue this pattern," said Ten-X Executive Vice President Rick Sharga. "What will be interesting to watch is how the market responds to changing conditions. Will credit become more available if interest rates continue to rise? Will home prices need to slow down, or will they be offset by rising wages? The only certainty is that the 2017 housing market will be fascinating to watch unfold."
The National Association of Realtors (NAR) recently reported that October sales rose higher than expected, jumping up two percent to a seasonally adjusted rate (SAAR) of 5.6 million units in October, 5.9 percent higher than a year ago, the highest year-over-year growth recorded since February of 2007.
NAR also recently reported a six percent year-over-year increase in median existing home prices to $233,200 in October. This increase marked the 56th consecutive month of annual gains and fell within the Nowcast range of $214,269 and $236,824. The November Ten-X Residential Real Estate Nowcast predicts that median existing-home sales will temper in November, falling between $220,691 and $243,922 with a target price point of $232,306. While just marginally higher than October, this represents annual gains of 5.4 percent.
"October sales jumped higher than expected as we continue to see the zig-zag pattern caused by the strong demand coupled with tight inventory," said Ten-X Chief Economist Peter Muoio. "The expected uptick in mortgage rates could create additional constraints in the market, but we could first see an initial rush to close before rates move higher. It's too early to fully gauge the potential 2017 impact."