New Data Tracks Declines in Negative Equity and Foreclosures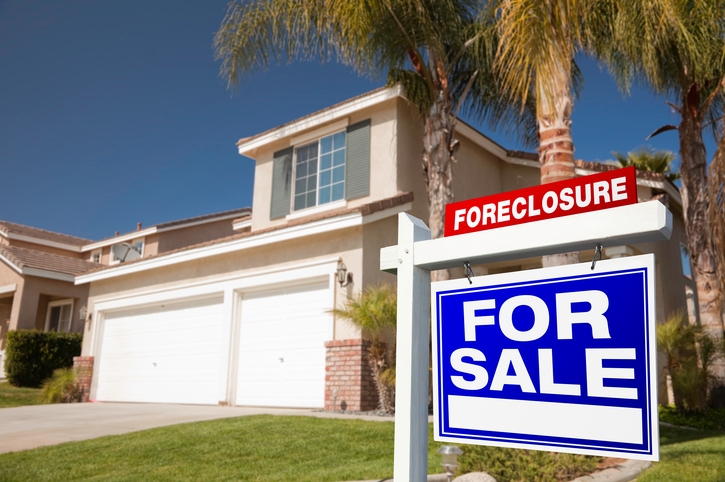 Although the national negative equity rate fell to 10.9 percent in the third quarter, down from 13.4 percent a year earlier, 11 percent of homeowners—5.3 million households—are still underwater, according to new data from Zillow.
However, negative equity is not even spread among all regions. Zillow reported that seven of the 10 large metros with the lowest rates of negative equity were along the West Coast, with such markets as San Jose, San Francisco and Portland recording less than five percent negative equity levels. At the other end of the spectrum, Chicago and Las Vegas had the highest levels of negative equity in the third quarter at 17 percent and 16.8 percent, respectively.
"As the housing market recovers and home values rise, the number of homeowners underwater on their mortgages continues to drop," said Zillow Chief Economist Svenja Gudell. "In addition to the individual homeowners who are underwater, negative equity affects the housing market as a whole, so this is good news not only for these owners, who are now able to either sell their home or at least regain some financial stability, but also for buyers who may find more options now. I expect homes will gain value steadily, for solid economic reasons, and that negative equity rates will continue to fall."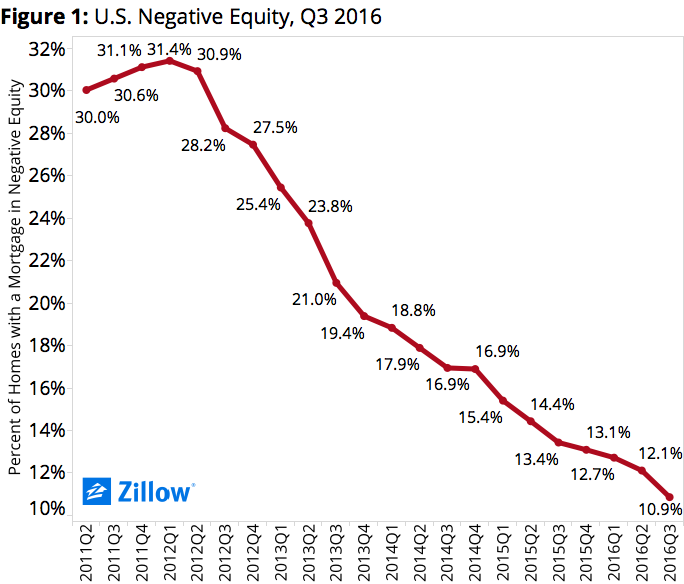 Separately, ATTOM Data Solutions reported there were 86,561 properties with foreclosure filings in November, down 18 percent from October and down 17 percent from November 2015. Thirty-two states posted year-over-year decreases in overall foreclosure activity, most notably Florida (down 33 percent) and Michigan (down 24 percent). And while 35,222 properties started the foreclosure process in November, that level is down 19 percent from the previous month and down 15 percent from a year ago.
Furthermore, 31,806 properties were repossessed by a lender last month, down seven percent from October and down 21 percent year-over-year. A total of 31,759 properties in November were scheduled for a future public foreclosure auction, a 28 percent drop from October and a 13 percent slide from November 2015.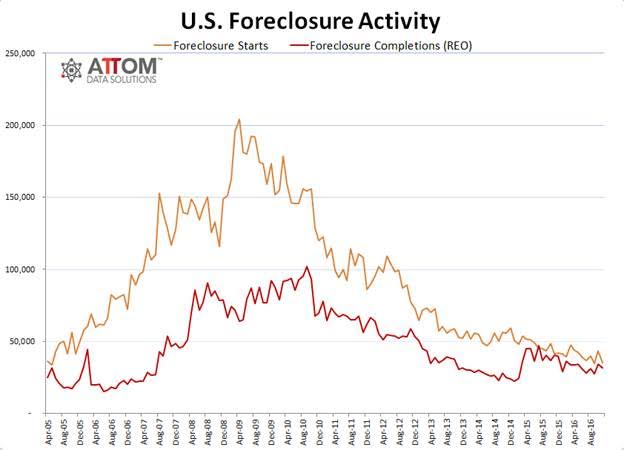 Foreclosure prevention is the focus of the newly announced Freddie Mac Flex Modification foreclosure prevention program, which will replace the expiring Home Affordable Modification Program (HAMP). Developed in alignment with Fannie Mae at the direction of the Federal Housing Finance Agency, the program is expected to provide a 20 percent payment reduction for eligible borrowers. Servicers must implement the new program by Oct. 1, 2017.
"We're proud to announce the Flex Modification program, a carefully considered and transparent alternative for homeowners who want to avoid foreclosure in today's post-crisis mortgage environment," said David Lowman, executive vice president of Freddie Mac's Single-Family Business. "We believe it strikes the appropriate balance between borrower relief and economic responsibility."