How to Foster Diverse Talent Acquisition
For most of us, a new year means embarking on journey of self-improvement and dedicating sincere effort to becoming better versions of ourselves. For some, that means making a concerted effort to improve our professional lives by switching employers, jobs or careers. Traditionally, we think of individuals as those who commit to these fresh challenges but employees are not the only ones making and keeping New Year's Resolutions. Today, many forward-thinking companies are designing strategies to hire and grow in today's diverse marketplace, with recruiting a more diverse workforce landing a secure spot at the top of the priority list.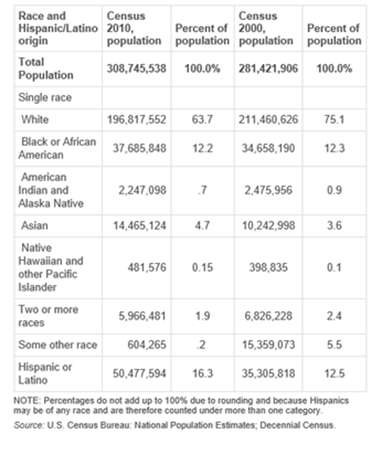 There are many reasons a diverse candidate pool leads to a more creative, productive and engaged workforce but one is that our nation's demographics are shifting at relatively rapid rates. The Hispanic population, in particular, has seen the most significant growth since 2000. According to the most recent census report, the Hispanic population grew from 12.5 percent to over 16 percent of the overall population in 2010, while the White Non-Hispanic population actually decreased. As those in the real estate industry have experienced, the changing landscape has impacted the consumer demand for housing, but naturally is also impacting the work force. More companies are looking to hire people who appropriately reflect the communities we serve.   
Some states and cities are seeing significantly larger demographic shifts which leads prudent companies to closely examine how their hiring policies will affect their market share, their level of customer service and ultimately their bottom line in 2017. Here are some things you should know (and why it matters) when recruiting Latino talent.  
1. We are younger
The average loan officer is 54-years-old, while the average Latino loan officer is between the age of 33-35. This means the traditional ways of advertising a job opening may not work as well as it has in the past. Because of the high percentage of Millennials in this segment, social media is a big driver to how we find out about you, your company and values.  
2. We do more units
If you are solely looking for the big producers, you will miss out on good, diverse talent. Generally speaking, Hispanic professionals do more individual units than our non-Hispanic counterparts. In order to appropriately foster this talent, it will be important to implement a strong compensation plan that rewards good sales behavior as well as high dollar amounts.  
3. We are mostly bilingual
Tools to help attract Latino homebuyers and marketing materials in Spanish will make the bilingual professional's job much easier and enhance a company's ability to penetrate the Latino market to its fullest potential. As you foster a diverse workplace, it will be critical to diversify the resources available for the consumer as well.  
4. Personal connections matter
Regardless of awards or accolades the organization has received, your new hire will care most about the effort the organization makes to connect on a personal level. Take care to train management and employees in cultural competence, participate in community events and make a sincere effort to practice leadership styles that encourage open communication among your team members.
 
5. Mentorship and professional development
Opportunities for professional growth and development will be highly attractive to the Hispanic workforce. Many are first or second generation and likely the first in their families to finish high school, go to college or start a career path very different from their parents/grandparents. As pioneers, we will actively seek out companies that will provide networking and mentorship programs and prioritize our growth within the organization.  
6. No man (or woman) is an island
Career decisions are often made at the family level, not the individual. The decision to enter into a career in mortgages, or even to switch companies, is often a family affair. Companies who get to know the important people in the lives of their recruits and invite participation from the larger unit will gain more loyalty and support overall.   
7. Balance of security and risk
Minority populations are known to start small businesses at higher rates than the general population and often won't shy away from the risks of building a business. The opportunity to create your own destiny is a compelling aspect of careers in the real estate industry. When hiring new candidates, be sure to educate your recruits on how the compensation and work structure in the industry allows for powerful career autonomy.  
8. We value community
Show your potential Hispanic recruits how your organization is involved in our or the broader community. We want to know we are part of something bigger.  
9. Show us we aren't the only one
Let us meet or speak to others in the company who have a similar background to us. We want to know that we can make it with you and that the company cares about fostering diversity on multiple levels.  
10. Let us be your biggest advocate
Once we are hired and succeed, we will tell all our friends and colleagues. As many companies know, networks of employees are the one of the strongest places to find solid talent. One good hire is like a hire of 10!
---
L. Maria Zywiciel is president of NAHREP Consulting Services, a marketing consulting firm specializing in the Hispanic segment and housing industry. For more information, visit NAHREPConsulting.com.
---
This article originally appeared in the January 2017 print edition of National Mortgage Professional Magazine.