Mulvaney Begins First Day as CFPB Acting Director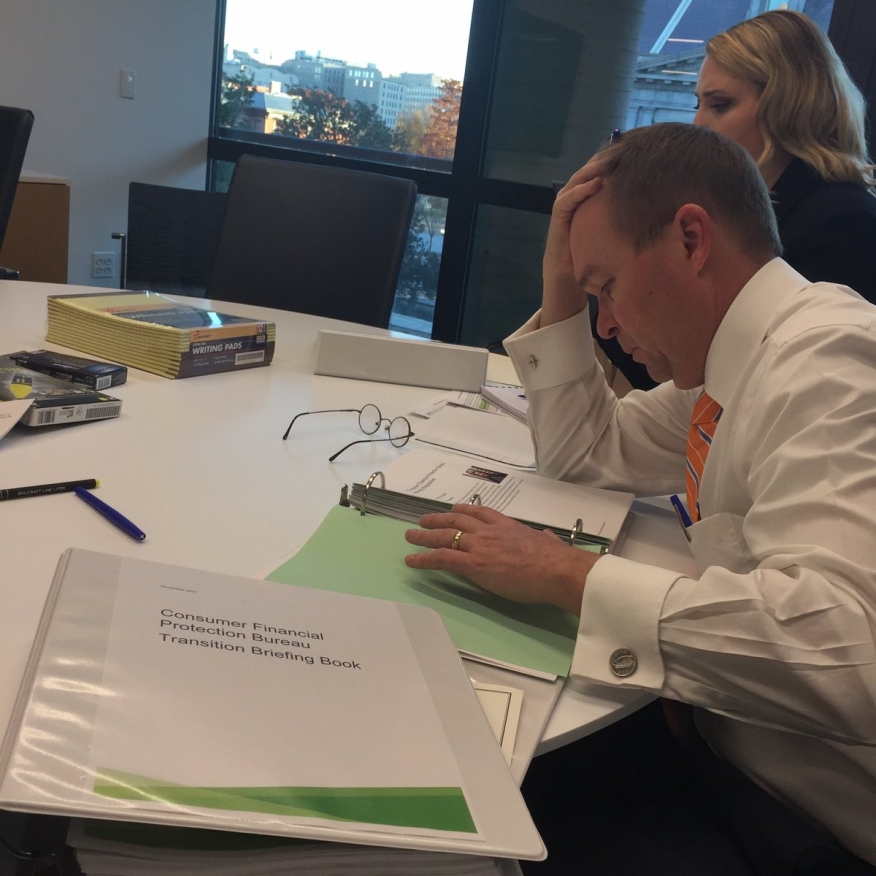 Mick Mulvaney arrived on his first day as President Trump's appointment as Acting Director at the Consumer Financial Protection Bureau (CFPB) carrying a large bag from Dunkin Donuts for his new colleagues, and immediately began working as the interim head of the agency.
In a photo posted to Twitter by John Czwartacki, director of communications at the White House's Office of Management and Budget (OMB), Mulvaney was shown in his new office studying documents in a notebook. Next to Mulvaney was another notebook bearing the title "Consumer Financial Protection Bureau Transition Briefing Book."
However, Leandra English, who was
named Acting Director by Outgoing CFPB Director Richard Cordray
, attempted to subvert Mulvaney's presence by sending an interoffice e-mail shortly before 8:00 a.m. In her e-mail, English expressed hope that the CFPB staff had a "great Thanksgiving" and added, "It is an honor to work with all of you." She signed the e-mail using the disputed title "Acting Director."
Mulvaney quickly responded to this with his own memo.
According to a Reuters report
, Mulvaney sent his own interoffice memo stating: "Please disregard any instructions you receive from Ms. English in her presumed capacity as Acting Director. If you receive additional communications from her today ... please inform the General Counsel."
English filed a lawsuit last night trying to block the Mulvaney appointment, which the President made under the Vacancies Act of 1998. English argued that the Dodd-Frank Act of 2010 gives the CFPB director the ability to name an interim successor until the president names a permanent replacement. It is uncertain if Mulvaney and English met today at the CFPB's offices—and, if they did, whether she helped herself to the Dunkin Donuts brought by Mulvaney.