Home Equity Levels Rise in Q3
Homeowners with mortgages have collectively seen their equity increase 11.8 percent year-over-year during the third quarter, representing a 12-month gain of $870.6 billion,
according to new data from CoreLogic
.
Furthermore, CoreLogic reported that homeowners gained an average of $14,888 in home equity between third quarter of last year and this year. Homeowners in Washington State saw the greatest gains, averaging approximately $40,000 in home equity, while California homeowners saw the second greatest gains with an average of approximately $37,000 in home equity.
On a quarter-over-quarter basis, the total number of mortgaged homes in negative equity decreased by nine percent in the third quarter to 2.5 million homes, or 4.9 percent of all mortgaged properties. On a year-over-year measurement, negative equity decreased 22 percent from 3.2 million homes, or 6.3 percent of all mortgaged properties in the third quarter. The national aggregate value of negative equity was approximately $275.7 billion at the end of the third quarter, down by approximately $9.1 billion, or 3.2 percent, from the second quarter and down by approximately $9.5 billion, or 3.3 percent, from one year earlier.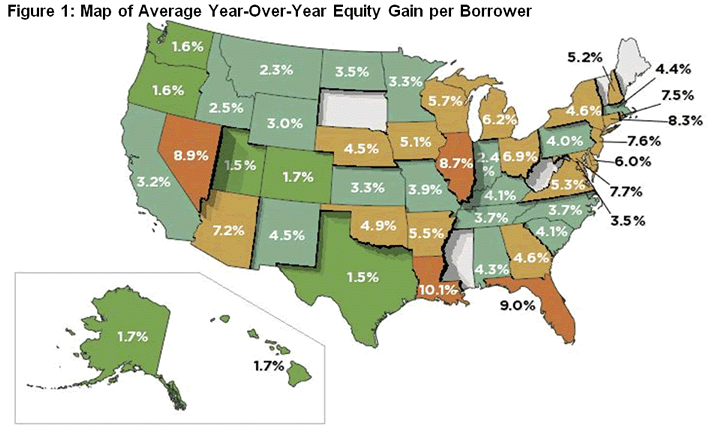 "While homeowner equity is rising nationally, there are wide disparities by geography," said Frank Martell, President and Chief Executive Officer of CoreLogic. "Hot markets like San Francisco, Seattle and Denver boast very high levels of increased home equity. However, some markets are lagging behind due to weaker economies or lingering effects from the great recession. These include large markets such as Miami, Las Vegas and Chicago, but also many small- and medium-sized markets such as Scranton, Pa. and Akron, Ohio."
Separately, a
new survey from TD Bank
found 80 percent of homeowners with an existing home equity line of credit (HELOC) said they would consider dipping into their home equity to pay for home renovations this winter. for funding.
TD Bank added that the top three uses for HELOCs cited by survey respondents were for home renovations (32 percent), emergency funds (14 percent) and education expenses (12 percent). Homeowners who indicated that they did not borrow against their HELOC over the past 12 months said it was because they either didn't have a specific use for it or that they were saving it for an emergency. The bank surveyed 1,010 homeowners for its study.