9.5 Percent of Mortgaged Residences Are Seriously Underwater
More than 5.2 million residential properties were seriously underwater during the first quarter of this year,
according to new statistics released by ATTOM Data Solutions
. This represents 9.5 percent of all residential properties with a mortgage, slightly higher than the 9.3 percent level in the fourth quarter of 2017 and slightly under the 9.7 percent level from one year earlier.
The year-over-year drop in the quantity of underwater properties was 291,000, the smallest annualized decline since ATTOM began analyzing this aspect of the housing market in the first quarter of 2013. On the flip side, more than 13.8 million residential properties with a mortgage were equity rich at the end of the first quarter, up by more than 122,000 from a year ago.
The states with the highest share of seriously underwater homes at the end of first quarter were Louisiana (20.1 percent), Mississippi (18 percent), Iowa (17.2 percent), West Virginia (15.9 percent) and Illinois (15.9 percent). The states with the highest share of equity rich homes were Hawaii (41.6 percent), California (41.5 percent), New York (34.8 percent), Washington (33.1 percent) and Oregon (31.8 percent).
"We've reached a tipping point in this housing boom where enough homeowners have regained both sufficient equity and sufficient confidence to tap into their home equity—resulting in a noticeably slower decline in seriously underwater properties and slower growth in equity rich properties," said Daren Blomquist, Senior Vice President at ATTOM Data Solutions. "This tapping of equity could take the form of a cash-out refinance, home equity loan or simply a home sale. We saw the biggest quarterly drop in average homeownership tenure for homeowners who sold in the first quarter since the fourth quarter of 2008, evidence that more homeowners are reaching that equity-tapping tipping point more quickly and deciding to sell."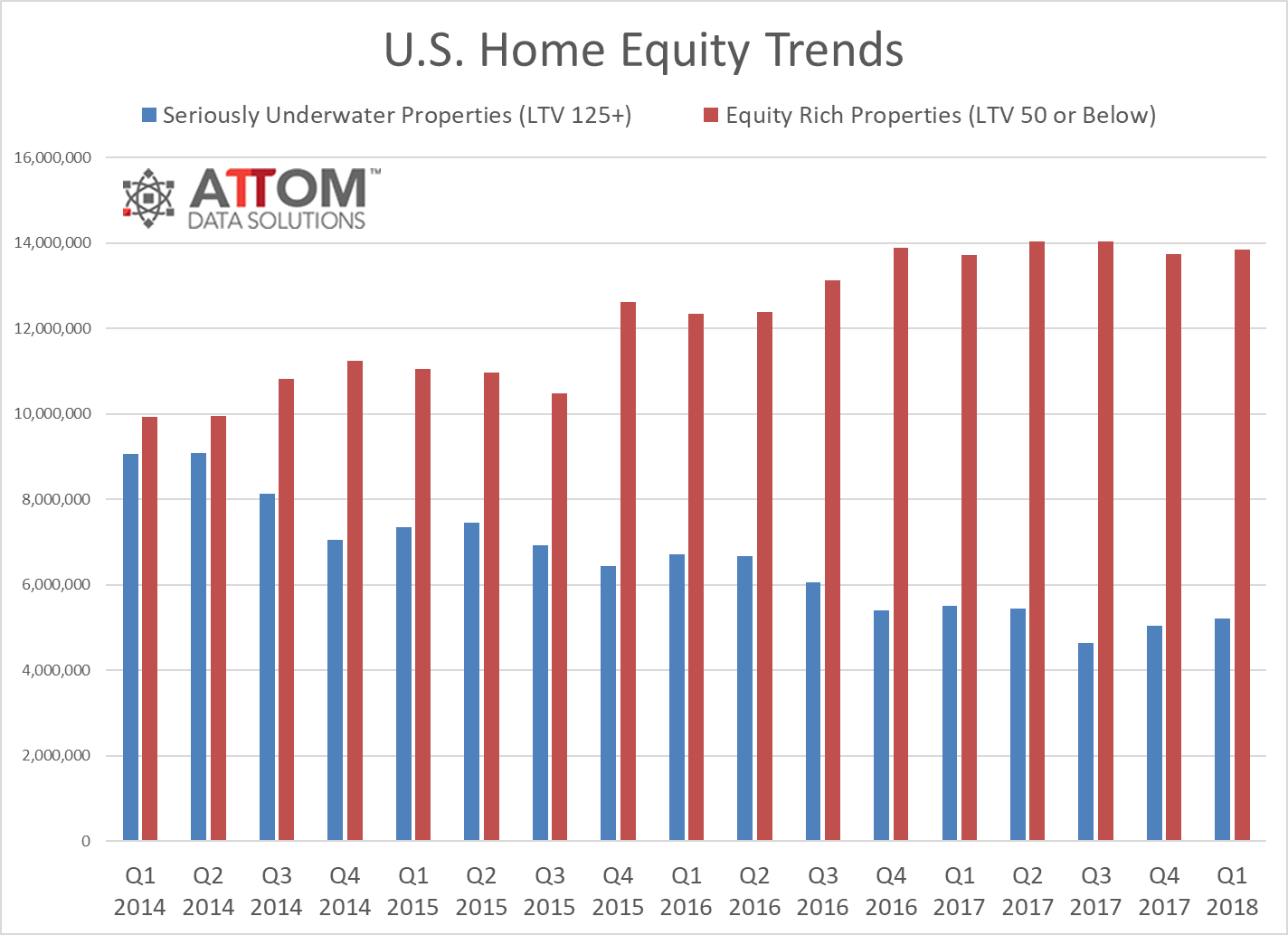 Subscribe to the nmp Daily