PRMI Giving Network Helps Construct Habitat Eco-Homes in Utah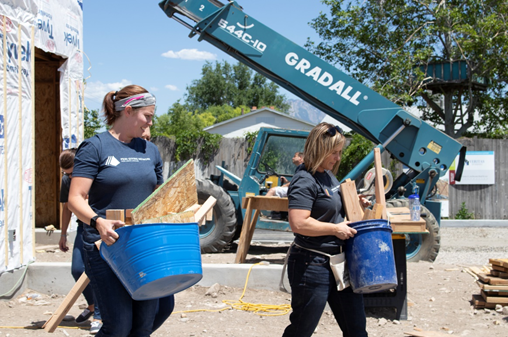 PRMI Giving Network
volunteers recently lent their hands at the Salt Lake Valley Habitat for Humanity, helping construct two homes for the "Field of Dreams-Eco Community" project in Kearns, Utah. Team members donated more than 150 hours over the course of two days to help build these homes for Utah families.

Developed by the non-profit organization and the University of Utah, the "Field of Dreams-Eco Community" homes are energy efficient, 1,500-square-feet houses that only use $1.50 in energy costs per day. Salt Lake County has approved 20 homes to be built in the new development. The Giving Network's team members worked on the first and second homes being built in the Field of Dreams project.
"We admire the great work that Habitat for Humanity does for low-income families in the community," said Dave Zitting, Chief Executive Officer of PRMI. "As a local mortgage lender, we understand just how special and important owning a home is to a family. We are grateful for the opportunity to support a local organizations working towards satisfying the needs of our community."
Through volunteer labor and donations of money and materials, Habitat for Humanity builds and rehabilitates simple and affordable homes for low-income families. Recent surveys show nearly a quarter of homeowners in the U.S. pay more than 30 percent of their income to their housing, making it difficult to afford necessities such as food, clothing, or medical care. Stable housing is foundational to build self-reliance, stability, and quality of life. This is the second opportunity the PRMI Giving Network has worked on this Habitat for Humanity project in eight months.
"Our homes are for the most part built by volunteers allowing us to pass on the savings directly to our new homeowners, without them we cannot make these homes so affordable" said Candice Diggs, Volunteer Coordinator for Habitat for Humanity Salt Lake City."
---