It's a Go-Go Housing Market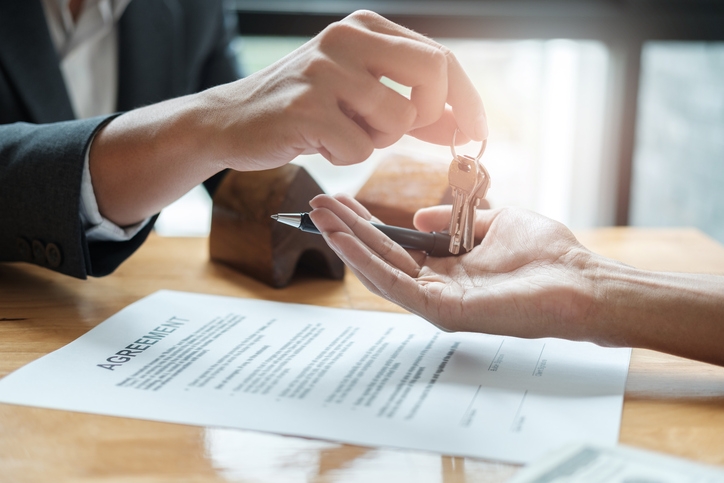 Today's housing data reaffirms the upward movement in home prices, mortgage rates, homebuyer demand and home seller profits.
The
S&P CoreLogic Case-Shiller U.S. National Home Price NSA Index
recorded a 6.4 percent annual gain in April, which was slightly lower than the 6.5 percent annual gain from March. The 10-City Composite annual increase was 6.2 percent, down from 6.4 percent in the previous month, while the 20-City Composite posted a 6.6 percent year-over-year gain, a slight dip from the 6.7 percent gain in the previous month.
Before the seasonal adjustment, the National Index posted a month-over-month gain of one percent in April while the 10-City and 20-City Composites reported increases of 0.6 percent and 0.8 percent, respectively. After seasonal adjustment, the National Index recorded a 0.3 percent month-over-month increase in April and the 10-City and 20-City Composites posted 0.1 percent and 0.2 percent month-over-month increases, respectively. Nineteen of 20 cities reported increases in April before the seasonal adjustment, while 17 of 20 cities reported increases after the seasonal adjustment. Seattle had the greatest price gains in April with a 13.1 percent year-over-year price increase, followed by Las Vegas with a 12.7 percent rise and San Francisco with a 10.9 percent upswing.
"The favorable economy and moderate mortgage rates both support recent gains in housing," said David M. Blitzer, Managing Director and Chairman of the Index Committee at S&P Dow Jones Indices. "One factor pushing prices up is the continued low supply of homes for sale. The months-supply is currently 4.3 months, up from levels below 4 months earlier in the year, but still low."
The effective interest rate on all mortgage loans was 4.66 percent in May, up three basis points from 4.63 in April. And the FHFA added the average loan amount for all loans was $322,100 in May, up $9,200 from $312,900 in April.
Despite higher prices and rising rates, homebuyers were on the prowl for property. The
Redfin Housing Demand Index
increased 7.4 percent to 116 from April to May. For the second straight month, the index recorded an increase in listings.
In the 15 metros covered by this index, there were 6.6 percent more newly listed homes for sale in April compared to the same time last year, and 3.6 percent more new listings in May, compared to May 2017.
However, the data picture was somewhat rosier last year: The Demand index was 7.5 percent lower last month versus May 2017, and the number of people making offers on homes fell 16.7 percent year-over-year.
"People listing their homes for sale in higher numbers this April and May is good news for buyers, and good news for home sales," said Redfin Head of Analytics Pete Ziemkiewicz. "But it's still not enough to satisfy buyer demand, which means price increases will likely continue."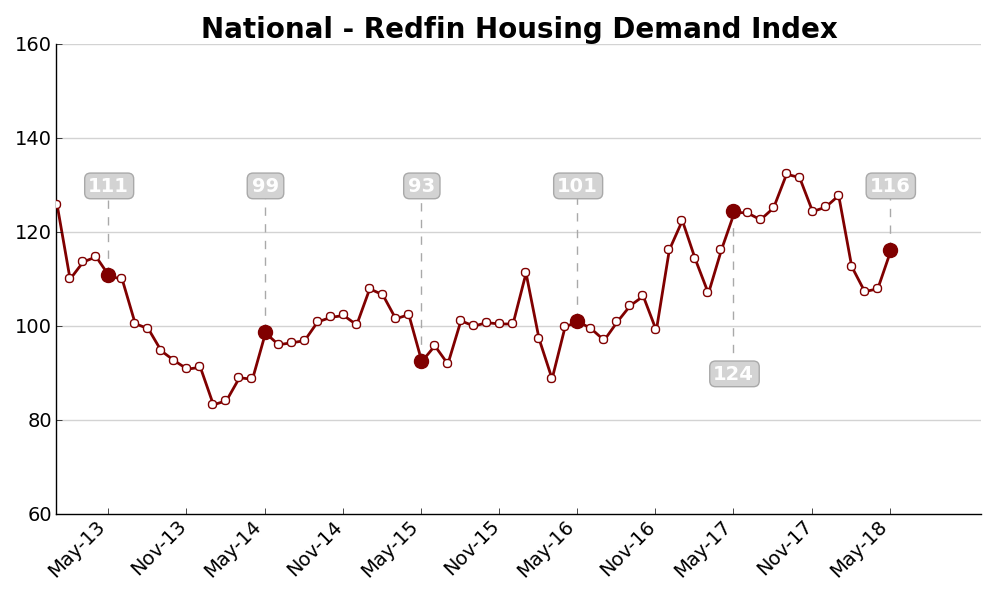 As for the sellers,
Zillow reported
that homeowners who put their property up for sale in 2017 made nearly $39,000, or 21 percent, when compared with what they originally paid for the home, with the typical seller living in their home for 8.4 years before selling it. Among the major metros, San Jose's homeowners saw the greatest profits: the typical home sold in 2017 for 54 percent more than the homeowners paid for it nine years earlier.
Across the country, more homes were selling above the listing price. Last year, nearly one-quarter of all homes sold for more than the asking price, compared to 18 percent in 2012.
"In a housing market that's been plagued by low inventory and increasing demand, homeowners in the nation's hottest markets have been able to cash in when they sell their homes," said Zillow Senior Economist Aaron Terrazas. "A home is typically the biggest investment someone makes, and it's paid off for longtime owners in many markets across the country. Today's typical seller bought in 2010, just before the national housing market bottomed out in 2012. Of course, these sellers typically are buyers as well, but the profits from the sale of their former home give them an advantage over first-time buyers who may be coming in with smaller downpayments."