Warren Blasts SCOTUS Pick Kavanaugh on CFPB Ruling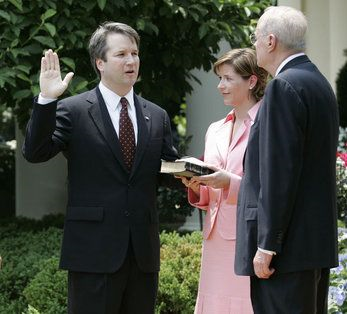 Sen. Elizabeth Warren (D-MA) has returned to Twitter, this time to condemn President Trump's nomination of Brett Kavanaugh to join the Supreme Court.
In
a tweet
posted this afternoon, Warren wrote, "There's a lot to dislike about Brett Kavanaugh's record – including his hostility toward consumers. He argued that the @CFPB – which has returned $12 billion to people who were cheated – is unconstitutional. The rights of consumers: that's #WhatsAtStake."
Warren linked her tweet to an
NBC News article
titled "Why this Supreme Court candidate could reverse a century of financial regulation." The article noted that Kavanaugh, in his capacity as an appeals court judge, wrote a 110-page opinion that said the CFPB structure was unconstitutional because it concentrated too much power on a single director who could only be removed from office for cause and not fired at will. Kavanaugh's ruling was reversed in January but was restored in July and could be brought to the Supreme Court for a final ruling.
The NBC News piece quoted Aaron Klein, director of the Center on Regulation and Markets at the Brookings Institution, in criticizing Kavanaugh as a political hack. "Kavanaugh's track record has shown tremendous sympathy to political rhetoric, more so than to established precedent as it relates to the Bureau," said Klein. "His ruling was closer to congressional talking points than legal precedent."
The article also quoted Lauren Saunders, associate director of the National Consumer Law Center, who commented, "Obviously, it would be concerning if there was a justice that was inclined to invalidate the CFPB." However, the article did not include a quote from any legal expert backing Kavanaugh's 2016 ruling.
Among Warren's colleagues, only Sen. Cory Booker (D-NJ)
specifically cited
the CFPB in his opposition to Kavanaugh. "Kavanaugh has worked to undermine the @CFPB's power & its efforts to protect consumers from predatory lenders & bad corporate actors," he tweeted.