Mortgage Rates Up Slightly
The 30-year fixed-rate mortgage (FRM) averaged 4.54 percent for the week ending July 26, up from last week when it averaged 4.52 percent. The 15-year FRM this week averaged 4.02 percent, up from last week when it averaged 4.00 percent. And the 5-year Treasury-indexed hybrid adjustable-rate mortgage averaged 3.87 percent this week, unchanged from last week.
"The next few months will be key for gauging the health of the housing market," said Freddie Mac Chief Economist Sam Khater. "Existing sales appear to have peaked, sales of newly built homes are slowing and unsold inventory is rising for the first time in three years. Meanwhile, affordability pressures are increasingly a concern in many markets, as the combination of continuous price gains and higher mortgage rates appear to be giving more prospective buyers a pause. This is why new and existing-home sales are not breaking out this summer despite the healthy economy and labor market."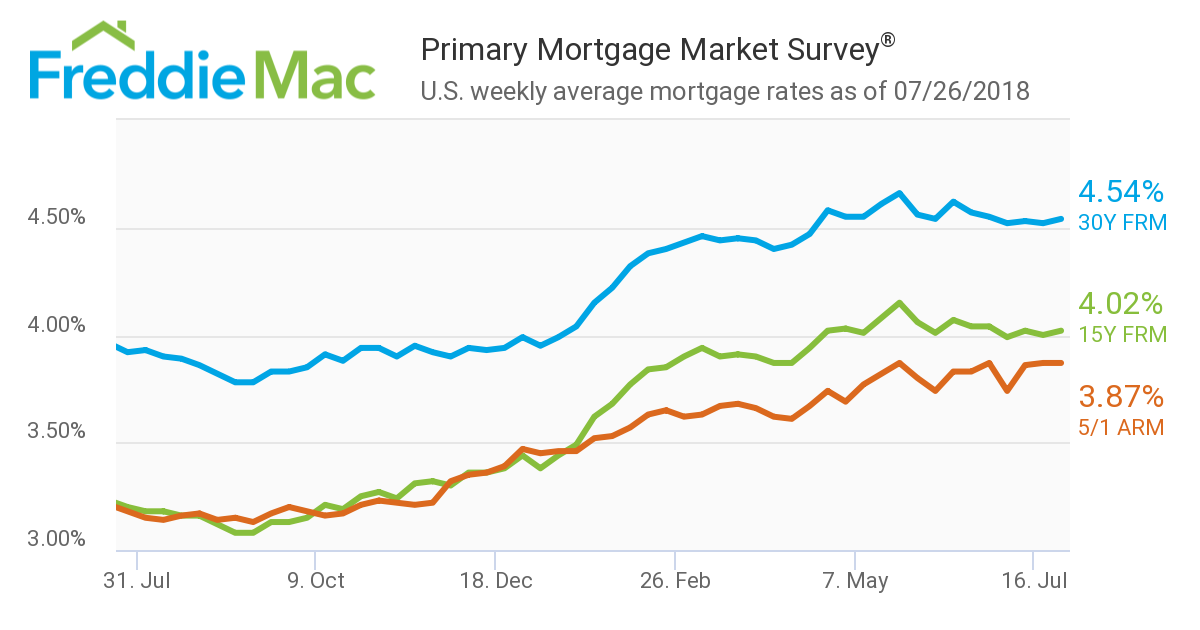 Separately, the Federal Housing Finance Agency (
FHFA
) reported that the National Average Contract Mortgage Rate for the Purchase of Previously Occupied Homes by Combined Lenders Index was 4.59 percent for loans closed in late June, up 2 basis points from 4.57 percent in May. The average interest rate on all mortgage loans was 4.59 percent, up 4 basis points from 4.55 in May, and the average interest rate on conventional, 30-year, fixed-rate mortgages of $453,100 or less was 4.76 percent, up 5 basis points from 4.71 in May.
The FHFA added that the effective interest rate on all mortgage loans was 4.69 percent in June, up 3 basis points from 4.66 in May, while the average loan amount for all loans was $333,900 in June, up $11,800 from $322,100 in May.