Mortgage Rates Take Another Drop
The 30-year fixed-rate mortgage (FRM) averaged 4.55 percent for the week ending Dec. 27,
down from last week
when it averaged 4.62 percent. The 15-year FRM this week averaged 4.01 percent,
down from last week
when it averaged 4.07 percent. But the five-year Treasury-indexed hybrid adjustable-rate mortgage (ARM) averaged four percent,
up from last week
when it averaged 3.98 percent.
"Rates continued their two-month slide and are currently hovering around the same level as the early summer, which was before the deterioration in home sales," said Sam Khater, Freddie Mac's Chief Economist. "The negative headlines around the financial markets are concerning but the economy remains healthy, so the drop in mortgage rates should stem or even reverse the slide in home sales that occurred during the second half of 2018."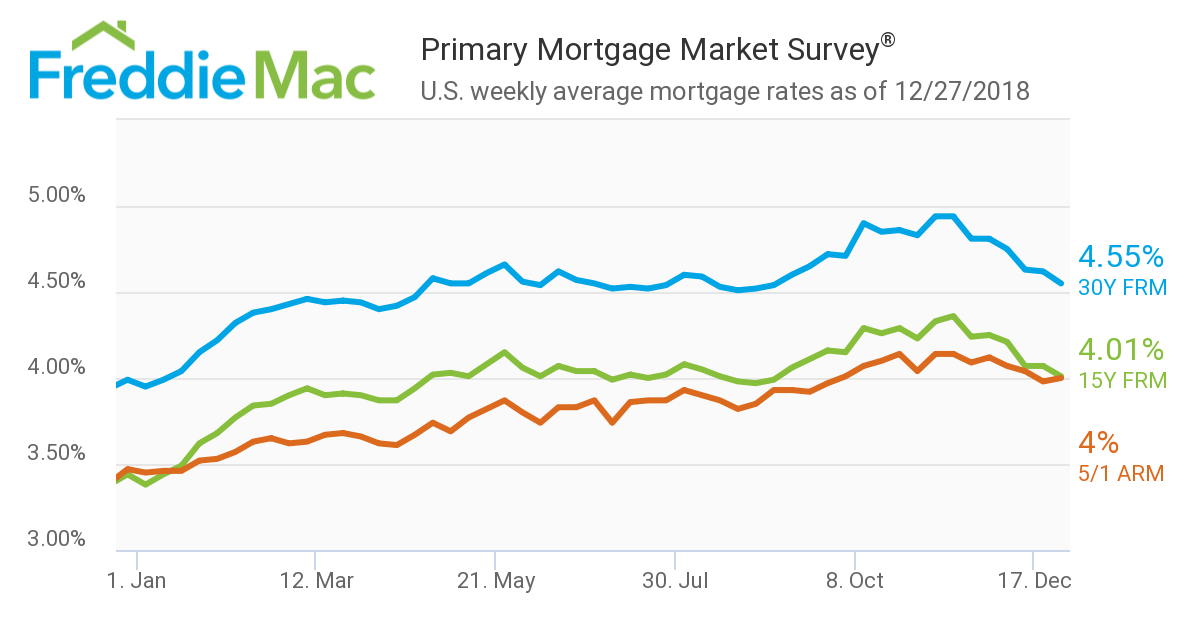 Separately, the
Federal Housing Finance Agency (FHFA) announced
that the average interest rate on all mortgage loans in November was 4.82 percent, up from 4.72 in October. The average interest rate on conventional, 30-year, fixed-rate mortgages of $453,100 or less was 4.99 percent, up from 4.87 in October, while the effective interest rate on all mortgage loans was 4.91 percent, up from 4.81 in the previous month. The National Average Contract Mortgage Rate for the Purchase of Previously Occupied Homes by Combined Lenders Index was 4.86 percent for loans closed in late November, compared to 4.75 percent in October.
The FHFA added that the average loan amount for all loans was $318,600 in November, up $3,500 from $315,100 in October.