HUD and DOJ Sign MOU on False Claim Act Enactment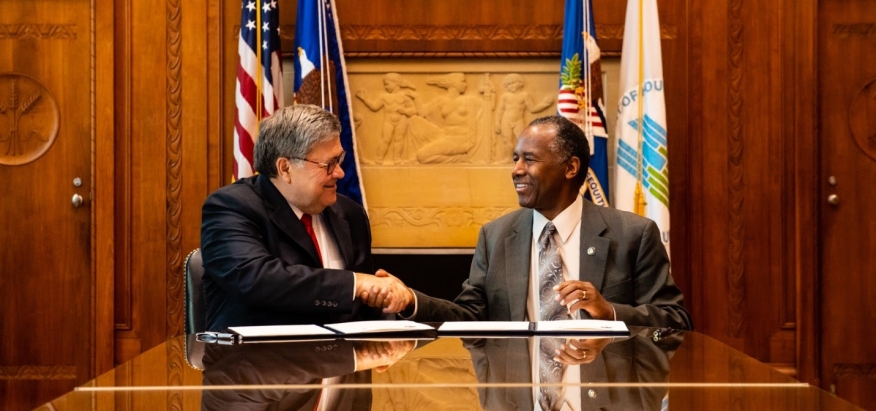 The Departments of Housing & Urban Development (HUD) and Justice (DOJ) have released a Memorandum of Understanding (MOU) that defines what they describe as "prudential guidance" on the appropriate use of the
False Claims Act (FCA)
for violations by Federal Housing Administration (FHA) lenders.
The MOU addresses how HUD and DOJ, including the U.S. Attorneys' Offices, will consult with each other regarding use of the FCA in connection with defects on mortgage loans insured by FHA. Under the terms of this agreement, HUD will utilize the Mortgagee Review Board (MRB) to review and refer FCA claims. The MOU sets the standards for when HUD, through the MRB, may refer a matter to DOJ for pursuit of FCA claims, and also sets forth how DOJ and HUD will cooperate during the investigative, litigation, and settlement phases of FCA matters when DOJ receives a referral from a third-party.
Furthermore, the MOU recognizes that application of the FCA requires, among other elements of proof, a material violation of HUD requirements, and DOJ attorneys will solicit HUD's views to determine whether the elements of the FCA can be established. This interagency understanding is intended to address concerns that uncertain and unanticipated FCA liability for regulatory defects led to many well-capitalized lenders, including many banks and credit unions statutorily required to help meet the credit needs of the communities in which they do business, to largely withdraw from FHA lending.
"This agreement clearly outlines our FHA mortgage program requirements, so they do not impede or discourage lenders from offering affordable FHA-insured loans to creditworthy borrowers," said HUD Secretary Ben Carson. "In taking these steps, we are fulfilling an important element our Housing Finance Reform Plan and making clear to all responsible lenders that FHA's mortgage program is a program they should participate in. At the same time, HUD will not tolerate irresponsible or fraudulent lenders who defraud borrowers and taxpayers. We are thankful for the excellent relationship we have with our colleagues at the Department of Justice who have worked diligently with us on this effort and share our goal of advancing affordable housing finance while protecting the interests of taxpayers."
U.S. Attorney General William P. Barr said: "This MOU sets forth a robust and collaborative process for deciding when to pursue False Claims Act cases to remedy material and knowing FHA violations. DOJ and HUD will work together to determine when HUD's administrative remedies are sufficient, or other recourse is appropriate, to address harm to the borrower, the taxpayer, or the government. Importantly, this MOU is the product of the excellent working relationship that has developed between our two agencies in our shared pursuit of greater clarity and fairness."
Industry reaction to the MOU was positive.
"The MBA applauds the efforts between DOJ and HUD to set guidance on the appropriate use of the False Claims Act," said Robert D. Broeksmit, president and CEO of the Mortgage Bankers Association (MBA). "We commend Attorney General William Barr and Secretary Ben Carson for their leadership and commitment to create an environment where lenders of all sizes–from depository institutions to independent mortgage banks–can operate with more certainty and less risk. Today is a significant step toward providing clarity for those currently participating in the FHA program, as well as encouraging more lenders to offer FHA-insured loans."
National Association of Realtors (NAR) President John Smaby concurred, adding that his association "believes this change will help more consumers access low downpayment loans and ensure a wide range of financial institutions will offer Federal Housing Administration-backed loans in the future, which is particularly important as new FHA condominium loan policies have created additional opportunities for potential homebuyers across the country."