Seventy-Five Years Later: Revisiting "The Small Home of Tomorrow"
The new PBS documentary, "
Hollywood's Architect: The Paul R. Williams Story
," explores the groundbreaking career of Paul R. Williams, an African-American who broke down professional barriers to become of the most distinguished architects of the post-World War II years.
At a time when few African-Americans were able to pursue a career in architecture, Williams–the first black member of the
American Institute of Architects
–amassed an astonishing client base that included the Los Angeles municipal government, the Beverly Hills retail outlet for Saks Fifth Avenue and celebrities including Frank Sinatra, Cary Grant and Lucille Ball.
But one of the most remarkable aspects of Williams' career was his effort to address an acute crisis facing the nation in the late 1940s: A then-historic shortage of new and affordable housing inventory. During the war years, homebuilding came to a near-complete halt as manpower and materials were devoted to defeating the Axis powers. In peacetime, the newly-returning veterans and their families were eager to become homeowners, but the inventory for new homes was nil and most of the older properties on the market were inadequate for this new wave of buyers.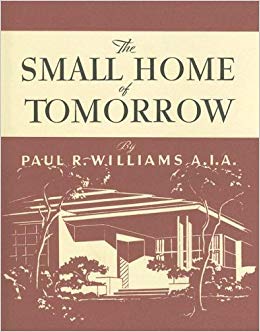 This year marks the 75th anniversary of Williams' response to his era's housing crisis: A book titled
The Small Home of Tomorrow
. In this groundbreaking book, Williams issues an imaginative challenge to home builders and property developers: create a new landscape of residential housing that was aesthetically pleasing and efficient, but which could be constructed in a cost-effective manner and could be afforded by returning veterans and their families.
"It is a foregone conclusion that there will be thousands of modern small homes built in the post-war world," Williams wrote. "An eager generation of young people coming out of the war is filled with the desire to have homes of their own–and homes of their own planning and building."
In The Small Home of Tomorrow, Williams offered 40 sketches and floor plans for designs that could accommodate the homebuilders and buyers of the post-war period. As an architect with an A-list client roster, it was an act of extraordinary generosity for Williams to literally give away his work in this manner–especially on projects that a later generation would consider as "starter homes."
Williams priced the construction costs of his designed houses between $3,000 and $10,000, which was a very fair price range. He also stressed the importance of housing materials and designs to meet the specific requirements of different geographical needs. Rather than adhere to the so-called cookie-cutter designs advocated in postwar developments like Levittown, N.Y., Williams was an early advocate of ecological sustainability in the construction process, as well as a celebration of regional design trends.
"Each section of the country should develop a type of house that would suit its particular climatic and economic needs," he wrote. "In Pennsylvania, for example, field stone might be used in building a modern house, as well as for the farmhouse. In California, redwood will be used successfully."
Williams also stressed the need to properly plan out housing strategies. In one of his most famous quotes, he stated, "Planning is thinking beforehand how something is to be made or done, and mixing imagination with the product–which in a broad sense makes all of us planners. The only difference is that some people get a license to get paid for thinking and the rest of us just contribute our good thoughts to our fellow man."
Williams refrained from acknowledging an obvious problem in the post-war landscape: Official and unofficial restrictions that kept too many neighborhoods segregated. As an African-American, he was keenly aware of the disparities of his time. But as an American, he recognized the problem facing his country and worked to help resolve the issue with the hope of a better future for all citizens.
Williams followed up the publication of The Small Home of Tomorrow in 1946 with New Homes for Today, which offered additional plans for a wider variety of housing options, as well as interior designs. It is not certain how many homes were built from Williams' books–during the course of his half-century career, he built over 3,000 structures–and both books are still available for sale via several e-commerce sites.
While homebuilding trends and buyer needs have evolved over the years, the 75th anniversary of The Small Home of Tomorrow offers a valuable reminder that a crisis in housing inventory can be addressed with intelligence and skill.
---
Subscribe to the nmp Daily