Dip in Jumbo and Non-QM Causes Mortgage Credit Availability to Slide in March
Mortgage credit availability decreased in March, according to the Mortgage Credit Availability Index (MCAI), a report from the Mortgage Bankers Association (MBA) that analyzes data from Ellie Mae's AllRegs Market Clarity business information tool.
The MCAI fell by 16.1 percent to 152.1 in March. A decline in the MCAI indicates that lending standards are tightening, while increases in the index are indicative of loosening credit. The Index was benchmarked to 100 in March 2012. The Conventional MCAI decreased 24.2 percent, while the Government MCAI decreased by 6.6 percent. Of the component indices of the Conventional MCAI, the Jumbo MCAI decreased by 36.9 percent, and the Conforming MCAI fell by 2.7 percent.
"Mortgage credit supply decreased 16 percent in March to the lowest level since June 2015, with declines in availability across all loan types. There was a reduction in the availability of loans with lower credit scores and higher LTV ratios, and the largest pullback came from the jumbo and non-QM space," said Joel Kan, MBA's associate vice president of economic and industry forecasting. "This month's release highlights the large retreat from jumbo and non-QM investors due to a sharp drop in liquidity. Lenders are making credit criteria changes to account for the increased likelihood of forbearance and defaults, as well as higher costs. There was also a significant drop in availability of LIBOR-indexed ARMs, as lenders acted on the GSEs' announcement to halt purchases of those loan products."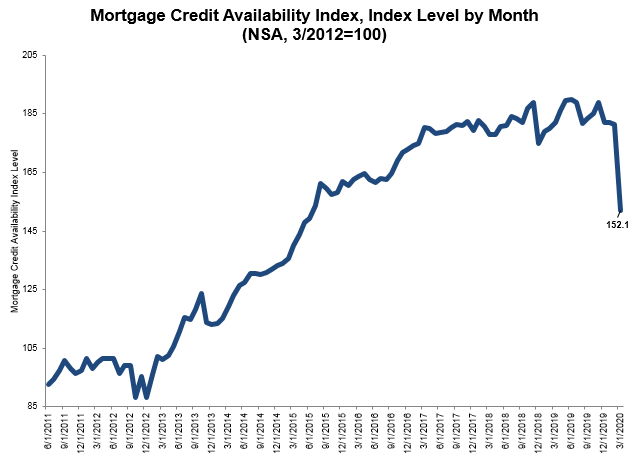 Subscribe to the NMP Daily