Keep Calm, Carry On In The Midst Of A Crisis From Within Your Home
In my column of late, I've been sharing the growth of a pilot program that connects mortgage loan originators with housing counselors who can help our challenged clients get "mortgage ready" for the last six months. Progress is being made on this front where services mortgage professionals need for our clients in the coming months and years may grow exponentially. The silver lining is that that awareness of what HUD housing counselors, certified credit counselors and sister agencies can do is being introduced to the mortgage industry right when we may really need it. More to come on this, but right now, some uplift is needed.
We will get through this
For me, it started with a realistic and practical e-mail from the chief executive officer at Innovative Mortgage telling us how to prepare. Offices, including mortgage spaces and wholesalers, figured out how to telecommute overnight. Many of us were incredibly busy trying to close existing deals at historically low interest rates before rate locks expired, while fielding refinance calls from past clients who thought mortgage interest rates had dropped to zero percent when the Fed cut interest rates.
But now as business slows down, we are seeing firsthand how the Coronavirus pandemic is affecting our communities and states. We have no choice but to adjust.
Many of us have been faced with decisions to cancel events and trips. Out of a desire to keep "together and communicating," lightbulb moments are occurring where workable ideas and use of services only discussed in the past are suddenly being implemented. There is no time to decide. It's "Go Time" and you need to "Just Do it." Zoom.US, a free, simple telecommunication platform where 49 participants can be seen on a computer screen at one time (though more can join) has become one of many sought-after services. But there is still clumsy trepidation on how to use these types of services for non-technologically-savvy colleagues.
As Communications Chair of the Florida Association of Mortgage Professionals (FAMP) and because we are having a quarterly meeting on Zoom, I opened a new account and chronicled "how to" everything with Zoom, including links to tutorial videos. The silver lining is that I used this same service on Sunday evening to bring nine members of my family together for a weekly chat, and we will continue joining this way every week while we work and live "in place at our homes."
Who knows … this may continue after we are out of the woods.
And why not have a Zoom meeting with real estate agents or host a first-time homebuyer class?
Below are some lighthearted offerings for you and family. We need this in a time like this!
 
Loan originator open for business: It's a family effort!
IMS Loan Originator Anthony Arnold informs all that he is open for business with the help of his son via Facebook. Look for "Anthony Arnold Mortgage Loan Originator" via Facebook.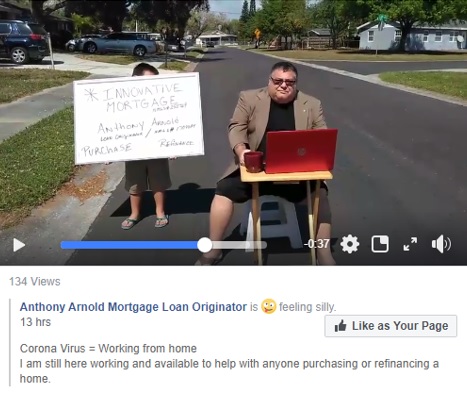 Write a letter to an elder
While you are at home, here's an idea that is good for kids and adults …
The CDC, World Health Organization, as well as the Surgeon General have indicated that there is currently no evidence that COVID-19 is being spread through the mail. So why not write a letter that will uplift an elderly stranger? Go to
LoveForTheElderly.org
for more information.
Singing dentist coronavirus video 
Want an uplifting tune? Visit the "Singing Dentist" on YouTube and
subscribe here
.
Thank you to those who are in positions where you must work with the public who are in essential services like everyone on the front lines in healthcare, to those who are in food and drug services industries like our grocery stores and pharmacies, and to companies that provide utilities, shipping, gas and support for our infrastructure in order for the masses of us to stay home. Thank you from the bottom of our hearts and stay safe.