NAMMBA CEO Thompson: Change Begins With Conversation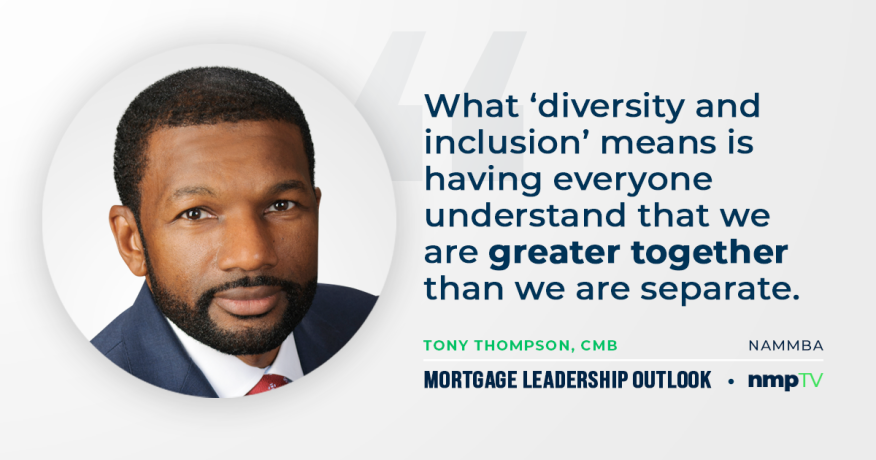 As the impact of COVID-19 takes a back seat to the death of George Floyd in Minneapolis, Berman and Thompson, who is vice president of growth and strategy for Silverton Mortgage Specialists, dissected the topic of diversity and inclusion in the mortgage marketplace and what strides, if any, have been taken in the 20 years that Thompson has been involved. Thompson got his start at Bank of America as personnel/strategy development manager, and along his journey, had stops at Wachovia Mortgage Corporation, PNC Mortgage and Guaranteed Rate.
What Thompson observed in the industry, propelled him to establish NAMMBA four years ago.
"Even four years ago when NAMMBA was formed, it was never my intention to form NAMMBA," explained Thompson. "My intention was to simply do something I did last Friday. I put a video on LinkedIn or a call to action to say, 'If you believe that our industry is a great place; if you believe that our industry should represent the future of what America should look like today and what it will be like, let's have some conversations and let's talk about how we can increase diversity and inclusion in our industry."
The three-and-a-half-minute video Thompson posted on LinkedIn, https://www.linkedin.com/posts/jtonythompson_nammba-allinthistogether-nammbacares-activity-6674419760849063937-dIac which had nearly 5,000 views in three days, was a call to action for the industry to unite and open discussions about making a difference.
One point that stuck with Thompson from his post was the message that said, "I understand that I will never understand, but I stand with you." Thompson said to Berman, "I understand that I will never be a white male. Only you have those experiences."
Thompson had this advice for the mortgage business as a whole. "As an industry, as an employee, as an originator and as a person, if we all just say, 'I understand that I will never understand what it is like to be a white man. However, I am with you and support you in that moment in time … that's what matters the most," said Thompson.
He further outlined a few steps that companies can take today to enact change and embrace a diverse workforce of tomorrow. As described by Thompson, it all starts with a conversation.
"I think it's important to understand to be able to recognize and say, 'Let's have a conversation,'" said Thompson. "The other piece is where companies can move the dial right now … we are sitting in a moment in time where if you are a mediocre company, you can become great by doing a couple of things to get your employees highly engaged."
As Thompson describes, first you must create a program within your organization where people know you want to value diversity and inclusion by supporting everyone's unique attributes.
"The future success of your company is maintaining highly-engaged employees and building it from there—that's the first step," notes Thompson. "The second step is to intentionally look at areas within your organization where you can develop training programs and leadership development so that at the end of the day, your high-potential, great employees see a path forward to grow within your organization."
Part of that future, as Thompson explains, begins with an injection of youth into an industry where the average age of a loan officer is 52.
"One of the most important things a company can do is support and recognize that they need to develop a road map for young people coming into the industry, for originators looking to grow their careers, for operations professionals looking to grow their careers and for women looking to grow their careers," said Thompson. "When you invest in an employee, they will work twice as hard for you because they are committed to making sure that you see they appreciate your investment in their potential."
Thompson noted that NAMMBA is doing its part in trying to inject youth and diversity into an aging industry through its Mission 2025 campaign. Through Mission 2025, NAMMBA aims to connect 50,000 students to careers in the mortgage industry by the year 2025.
"We are launching a hyper-intensive version of Mission 2025 called the Student Challenge this month, because four million college students graduated in May and over two million of those do not have a job given the current economic environment," explained Thompson. "We want to let them know that there are entry-level careers in servicing right now. Guess what, you used to sell tickets to all of your friends to football games and were a great salesperson in college, there is a job called an 'originator' where you are absolutely a fit for."
Highlights From The Interview Include
►On the reaction by the industry to his call to action, Thompson stated, "I am excited to see that companies and leaders have at least stepped up and said, 'I understand at this moment in time, I need to be a leader.' The most important thing leaders can do right now is say, 'I support you and hear you, I may not be able to walk in your shoes, but I want to understand your shoes. I want to understand what you have to go through so that as I make decisions, I can make better decisions because now diversity is all about bringing together different thoughts and different perspectives, and including them, which is the 'inclusion' piece, ultimately your outcome is better."
►On changes he is seeing within the ranks of the industry in terms of diversity: "It's important to understand that when people hear 'diversity and inclusion,' those are the buzzwords right … they think it's taking away from one group of individuals to another … no! What 'diversity and inclusion' means is having everyone understand that we are greater together than we are separate. We can accomplish more together."
►On the importance of NAMMBA to the industry at large: "NAMMBA was founded on that principle that we need to help women and minorities take their career to the next level. That's all we do at NAMMBA, provide training, education and professional development for that next generation leader or that person who aspires to be that next generation leader. We have not yet paid the tab of today which is, we need more senior leaders, we need more women, we need more Latinos, Asians, Indians, African Americans in management levels, in regional roles, in CEO roles, and key leadership roles to be able to give companies the perspective that they may not otherwise have when they are making strong decisions, when they are trying to make strategic decisions to grow their organizations."
Watch the full interview between Berman and Thompson below: