Flagstar's Fercho Encourages Originators To Step Into Underserved Communities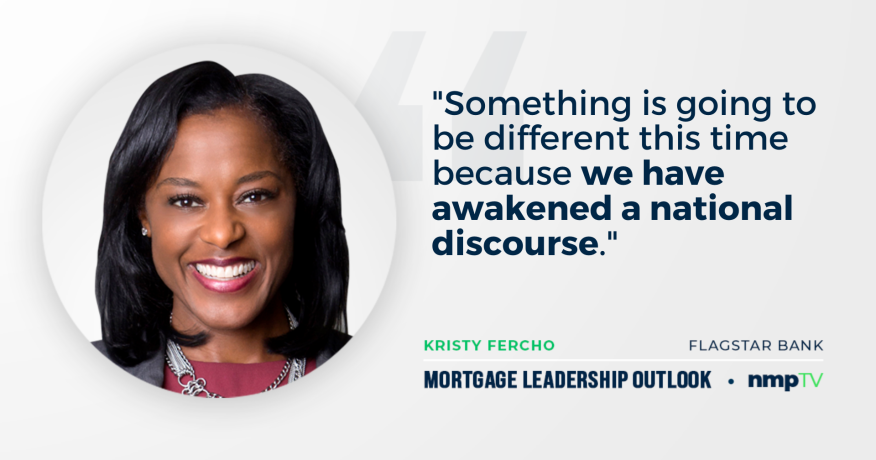 On Tuesday's episode of the
Mortgage Leadership Outlook series
, Kristy Fercho, president of mortgage for
Flagstar Bank
and vice chairman of the board of directors for the
Mortgage Bankers Association
, joined series' host Andrew Berman, head of engagement and outreach for 
National Mortgage Professional
magazine, for an important discussion on minority representation in the industry, racial tensions in the U.S. and the impact of the COVID-19 pandemic on the mortgage industry.
Fercho joined both Flagstar and the Mortgage Bankers Association in 2017. Prior to taking on her role as executive vice president and president of mortgage for Flagstar, she spent 15 years with Fannie Mae, ultimately serving as senior vice president, customer delivery executive, responsible for the end-to-end strategy and business performance of all single-family customers in the Western United States, representing an acquisition volume of over $300 billion.
Fercho also serves as vice chairman of the MBA's Diversity and Inclusion Advisory Committee and is a member of its residential board of governors.
"As a black woman being connected to my community that has endured so much pain and oppression for so long, last week was a really hard week for me," Fercho said as she was working through much pain and anguish trying to process the events surrounding the death of George Floyd and its aftermath. But by the end of the week, she was able to get to a place of hope.
In terms of the current movement, Fercho says there is something much different this time around. People are not just moving on from this as just another tragedy.
"The reason I think something is going to be different this time is because we have awakened a national discourse with this conversation and it's not only national, it's international," said Fercho.
She believes those who are in the industry have a unique opportunity to help underserved communities.
"I tell my team all of the time, we have this unbelievable privilege to put people in homes and helping them achieving the American dream is something that we have at our fingertips," said Fercho. "Certainly, one of the ways that you start to move into a more just society is economic equality, and I think homeownership continues to be the single largest wealth-building opportunity that people have access to and that doesn't have color on it right? There are obviously some systemic and racist things with redlining, and there is some history we need to overcome there, but certainly, from a socioeconomic standpoint, wealth building still happens through homeownership. So, I think we're at an amazing place in the industry to talk about that."
Fercho suggests that any originator who wants to help make the change step out in the community. She says originators should think about what communities they are working in and encourages them to go into communities that need the most help and offer their expertise as an originator. Fercho believes that educating these communities on what you do as an originator, the homebuying process and mortgages are one of the best ways you, as a mortgage originator, can help. 
Fercho says the mortgage industry needs to confront this topic because of what the future holds. She stated that looking at the demographics of the future homebuyer and what they call "the browning of America," the increase in immigration and who the new homebuyers are, over 70% of new homebuyers are going to be people of color. As an industry, Fercho urges that there needs to be preparedness for the demographic shift. 
"As the only black woman running a mortgage company, I have had the incredible privilege of being in this position and being able to help put people in homes," said Fercho. "I feel like I'm standing in the middle of this pain and chaos that's happening in our community and a little bit conflicted of this incredible opportunity that I get to live every day."
Highlights From The Interview
►"One of the challenges I think we have in the mortgage industry is that there aren't a lot of people of color in this industry," said Fercho. "There's some great work going on by the MBA and by Tony Thompson at NAMMBA, just trying to increase women and minorities in this business."
►She believes that it's not just about getting people into the industry, but keeping them in the industry. Fercho stressed the effectiveness of mentorship and what it has had on her career. Because of that, she encourages those in positions like hers to mentor minorities in the business. She also encourages minorities in the business to seek mentorship that will help them progress in their careers. 
►Fercho says Flagstar has really been transforming its third-party technology and during COVID-19, it also rolled out a number of new tech programs that support eClosing, online notarization and more. She is excited about where the entire industry is going technologically and believes that the pandemic has really pushed the industry to adopt more digital solutions.
Check out the full interview with Fercho and Berman below.