Caliber's Bryan Bergjans Set For Wednesday's Mortgage Leadership Outlook Series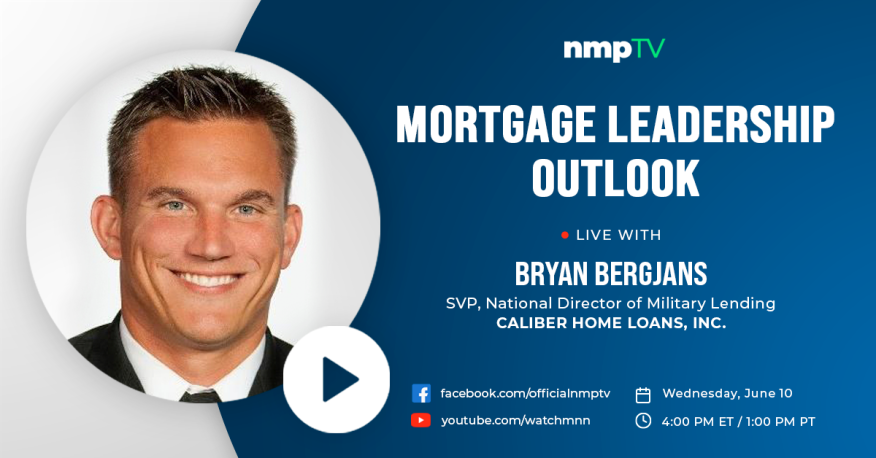 Today's installment of the
Mortgage Leadership Outlook series
will feature Bryan Bergjans, SVP, national director of military lending for
Caliber Home Loans Inc.
Bergjans and the series host Andrew Berman, head of engagement and outreach for 
National Mortgage Professional
magazine, will explore how Caliber dealt with the COVID-19 pandemic, trends he's seeing in the industry and much more.
As the COVID-19 continues to pose challenges for the industry, the Mortgage Leadership Outlook series helps you, the mortgage professional, navigate through these times of uncertainty. That's why we want you to be a part of the conversation between Bergjans and Berman too! Tune in to the 
NMP Facebook page
 and post your questions in the comments section.
Bergjans is responsible for the expansion of Caliber's support of service members. According to Caliber, he dramatically increased the number of VA loans originated at the company. Bergjans is responsible for continuing to build a team that is better equipped to deliver home mortgages for the military and veteran population.
Bryan joined the Navy out of high school in 1995 and later earned a master's degree in business administration and HR management from American InterContinental University. Although he began a career in mortgage banking in 2002, he remains a member of the Navy Reserves and recently completed a deployment to Afghanistan. Today, he's the Department Head for Commander Naval Forces Korea Detachment Delta in St. Louis, Mo.
Join Bergjans and Berman, as they answer all of your questions live, and discuss important topics in the industry at 4:00 p.m. ET/1:00 p.m. PT today via 
NMP's Facebook page
.