Du Plessis Talks Prioritizing During COVID-19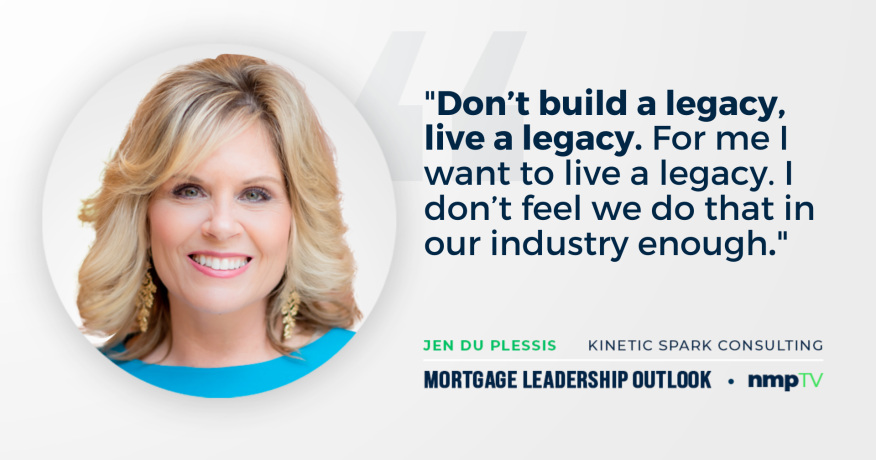 On Monday's episode of the Mortgage Leadership Outlook series, Jen Du Plessis, CEO of Kinetic Spark Consulting joined series host Andrew Berman, head of engagement and outreach for National Mortgage Professional magazine, to chat about COVID-19's impact on mortgage loan originators, the advice she gives her clients to help them through the pandemic, how she has learned to balance her work life with her home life, and more.
As COVID-19 continues to pose challenges for the mortgage industry, the Mortgage Leadership Outlook series helps you, the mortgage professional, navigate through these times of uncertainty.
Kinetic Spark Consulting is a coaching and educational platform founded by Du Plessis. The company came about from her desire to help others in the mortgage industry, as well as real estate agents and small business owners, with educational training, speaking and coaching.
With the COVID-19 pandemic, Du Plessis said many of her clients were trying to deal with higher volume, being home managing their kids and trying to pivot their business. She said it's all about laying out priorities. She advised them to create time blocks to spend with the family to recharge and nurture yourself.
She also encouraged her clients to continue to make calls and use a concerned tone rather than that of a salesperson to build a stronger relationship. Du Plessis said that this time should be used for planting your seeds for better relationships, and she highly recommends prospecting through your database ("acres of diamonds" as Du Plessis described one's database) with calls and texts. 
According to Du Plessis, this is the time to focus on four skills: Sales, Sources, Systems and Service. In addition, she insisted that being educated on the market is one of the most useful things a loan originator can do right now. She pointed out that hiring employees made her realize that she wasn't able to break through because she was taking on too much. She said you don't operate at full capacity if you try to put all of the responsibility on yourself: you stretch yourself too thin.
Highlights From The Interview
►When she first entered the mortgage industry, she worked as hard and as much as she possibly could. However, as she tried to manage every aspect of her business, she realized it wasn't healthy. She put her business above her family as she chased the number one spot. She would realize that she needed to say no to some clients, find a better system of working and bring on a small team to help her get the job done.
►Over the last 10 years, Du Plessis has spent more time with her family. She discusses how she was able to do so and more on her Mortgage Lending Mastery podcast.
"I work with intention, I work on purpose, I work with focus and all of my decisions are based on me serving me. I hate to say it like that but it's what fulfills you, what makes you happy and I can get a little chunk of that every day."
►"Don't build a legacy, live a legacy. For me, I want to live a legacy and I just don't feel that we do that in our industry often enough."
Check out the full interview between Du Plessis and Berman below.