Mortgage Rates Rise, Still Below 3%
Freddie Mac's latest Primary Mortgage Market Survey showed that the 30-year fixed-rate mortgage averaged 2.96%, up from last week's average of 2.88%.
"Homebuyer demand remains strong, especially for those in search of an entry-level home where the improvement in affordability via lower mortgage rates has a material impact," said Sam Khater, Freddie Mac's chief economist. "Even with this week's uptick, very low rates are providing a significant boost to the housing market that continues to hold up well during this time of uncertainty."
Additionally, the survey shows the 15-year fixed-rate mortgage averaged 2.46%, up slightly from last week's 2.44% average and the 5-year Treasury-indexed hybrid adjustable-rate mortgage averaged 2.90%, unchanged from the previous week. Both the 30-year and 15-year fixed-rate mortgage averages sit well below their averages from the same time in 2019.
Read more from Freddie Mac's PMMS.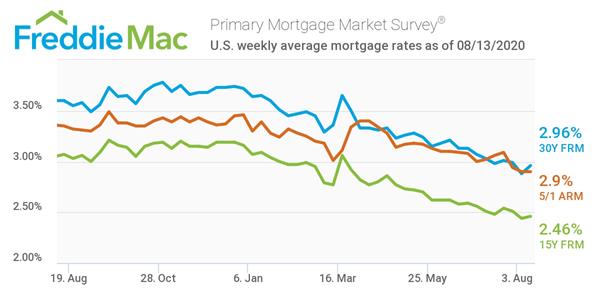 Subscribe to the nmp Daily