AmBiz CEO Vince Valvo Addresses Latest Issue Of NMP Magazine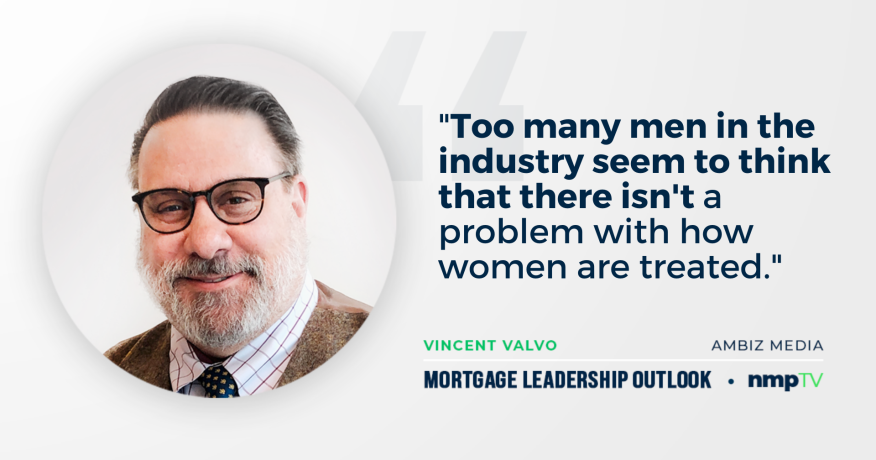 Vincent Valvo, CEO of American Business Media, joined Andrew Berman, head of engagement and outreach for National Mortgage Professional magazine for Wednesday's episode of the Mortgage Leadership Outlook. Valvo and Berman discussed the latest issue of National Mortgage Professional magazine, which featured an analysis of Anthony Casa's lewd comments toward an industry rival's spouse.
Valvo has over two decades of experience in the financial reporting industry, working as an editor, publisher and editor-in-chief for several publications including Banker and Tradesman, Hartford Business Journal, National Mortgage Professional and more. He created the largest network of mortgage professionals, the Originator Connect Network, which also hosts more than 22 networking and educational events across the nation.
In his interview with Berman, Valvo spoke about the cover story of NMP, an analysis piece on AIME chairman Anthony Casa, who is facing a defamation lawsuit from Theresa Neimic the wife of Quicken Loans executive vice president Austin Neimic, over a series of videos and text messages containing lewd and at times pornographic references.
Interview Highlights
Valvo said the magazine decided to explore the Casa story because "any publication or organization looking to bring news and information and insight to its audience is always thinking about how we can add to this conversation that's out here right now. How do we advance the conversation? How do we make it so that we all have a frame of reference to say, 'We are on the right path here.'"
"One of the things that we talked about internally was what can we bring additionally to this story. We thought, well a great opportunity would be let's put out an instant poll. We asked both sexes, 'Have you be adversely affected in your career because of how you look? Do you ever feel as though your prospects have been demeaning? Do you feel that you have been demeaning?'"
"Frankly, if all of the answers had come back saying, 'No, we don't think there is a problem' then that would have been a very interesting story in itself. What came back was 70% of men in the industry who responded said, there isn't a problem here. What then happened was more than 80% of the women who responded said, 'You bet there is.'"
"That's the crux of this story, is that we clearly have a breakdown between whether men in the industry feel like women are being mistreated or not being respected and women who say this happens all the time. We need leaders in this profession to say, 'You know what? We're going to stand up and be better than the rank-and-file members, so we can be a role model to show everyone here's what you need to do.' Too many men in the industry seem to think that there isn't a problem with how women are treated, and we heard from so many women who said, 'This is terrible. We need to find a way to fix this.'"
"We know that people don't always want to hear the truth. The analysis that we put together in here had nothing that said Quicken is a good company, or any company is a good company or a bad company. We say none of that. What we say in there, is that there is an association, supposed to be leading as professionals, as professionals not as cowboys, not as a bunch of amateurs running around," said Valvo. "To create this as a professional organization, to then have that leader do something so egregiously bad, this is about that leader. This is simply 100% about what that leader did."
"This is a fellow who is crass, often profane and he revels in it. What it does is establish a baseline for what his personality is, who he is. What underlies all of this."
"I would ask everyone who is criticizing [our analysis] to watch the videos that he put out. Look at the lawsuit that has been filed, with all of the text messages that he sent. The lewd assertions that he made. Bear in mind, not even against an individual, it's against an individual's wife."
"This was a premeditated, direct, vicious attack against someone. I would ask every single person here, every man who is watching, if someone did that your wife, your spouse your mother, would you say, 'Oh, this guy's fine.' To every woman who is watching if this happened to you, or your daughter or your sister, would you think this is fine? Because, I will say I don't, and I don't think anyone here at NMP does."
"You just can't say you're going to lead this entire mortgage community if that's who you are."
"There are great people at AIME. I'm very saddened that we don't have Katie [Sweeney, AIME executive vice president of strategy] here today [as originally scheduled] because she seems like a great leader and frankly in this situation, she seems like the kind of person that should be the next leader of AIME."
Valvo quoted Sweeney who said "The countless well-intentioned messages I received telling me I need to stand up for women, has been quite honestly really hard on me. I see this all the time and it's a difficult position for me to be in. I believe grace is something everyone deserves, especially when they show a genuine, humble desire to be better." Valvo asserted that Casa has not shown a genuine, humble desire to be better.
"[Sweeney] says, 'Many will blindly support Anthony because of what he has done for the industry. I believe the best way to love someone and care for them is to speak the truth and hold them accountable."
Valvo added, "I will point out that this, 'Speak the truth and hold them accountable' is the statement itself from AIME. For those who are arguing that NMP should not speak the truth and try to hold Anthony accountable, I would ask people to look at the statements of that same organization."
Check out the full interview between Valvo and Berman below.
Previous guests include Michael McAllister, Katherine Gardner, Nomi Smith, Joe Dahleen, Tim Nguyen, Kristy Fercho, Tony Thompson, Mat Ishbia, David Luna, Barry Habib, Rob Chrisman and more.
See all the interviews from the Mortgage Leadership Outlook series on its YouTube channel.
‍