Mortgages Rates Reach Another All-Time Low
Freddie Mac's Primary Mortgage Market Survey reported the 30-year fixed-rate mortgage averaged 2.81%, the lowest rate in the history of the survey dating back to 1971. At the same period in 2019, the 30-year fixed-rate mortgage averaged 3.69%.
"Low mortgage rates have become a regular occurrence in the current environment," said Sam Khater, Freddie Mac's chief economist. "As we hit yet another record low, the tenth record this year, many people are benefitting as refinance activity remains strong. However, it's important to remember that not all people are able to take advantage of low rates given the effects of the pandemic."
Additionally, the 15-year fixed-rate mortgage averaged 2.35%, down from 2.37% last week. A year ago, the 15-year fixed-rate mortgage averaged 3.15%. The 5-year Treasury-indexed adjustable-rate mortgage averaged 2.90%, slightly down from its 2.89% average the previous week.
"The economy continues to recover, albeit at a slowing pace," said Doug Duncan, Fannie Mae senior vice president and chief economist, in remarks from Fannie's Economic and Strategic Research Group. "Our view is that the combined decline of GDP in 2020 will likely be regained in 2021 for net-zero growth over the two-year period. This suggests that if the labor force grows as expected, then the unemployment rate must also end 2021 higher than pre-crisis levels, as shown in our forecast. Meanwhile, housing continues its multi-year theme of historic supply constraints. Strong demand-side drivers, including low mortgage rates and a surge of millennials looking to purchase homes, are contributing to significant home price appreciation, particularly as many older homeowners continue to age in place and other would-be home-sellers adopt a more conservative posture due to COVID-19 concerns, further limiting supply."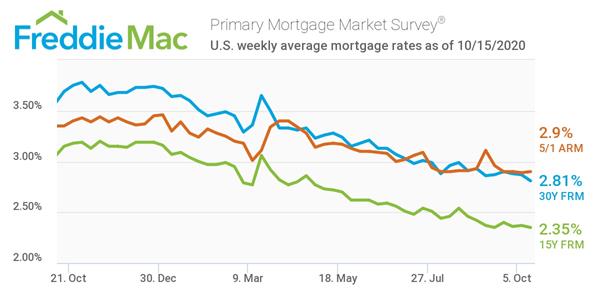 Subscribe to the NMP Daily