Mortgage Rates Make A Modest Increase
Unlike the past three weeks of consecutive, substantial increases, mortgage rates showed just a minimal increase for the week ending April 1, 2021. Freddie Mac's Primary Mortgage Market Survey reported the 30-year fixed-rate mortgage increased slightly to 3.18%, up from 3.17% the previous week. A year ago, the 30-year averaged 3.33%.
"Although mortgage rates remain low, we are beginning to see a pullback by those looking to enter the housing market," said Sam Khater, Freddie Mac's chief economist. "In fact, homebuyer demand has gone from 25% above pre-COVID levels at the start of the year, when mortgage rates hit record lows, to 8% above pre-COVID levels today."
"We even see that purchase demand is diminished today as compared to late May and early June of 2020, when mortgage rates were the same level. This is confirmation that while purchase demand remains strong, the marginal buyer is feeling the affordability squeeze resulting from the increases in mortgage rates and home prices we've experienced in recent months," added Khater.
Additionally, the 15-year fixed-rate mortgage averaged 2.45%, unchanged from the previous week. The 5-year Treasury-indexed hybrid adjustable-rate mortgage also remained unchanged, averaging 2.84%.
Click here to view Freddie Mac's full PMMS.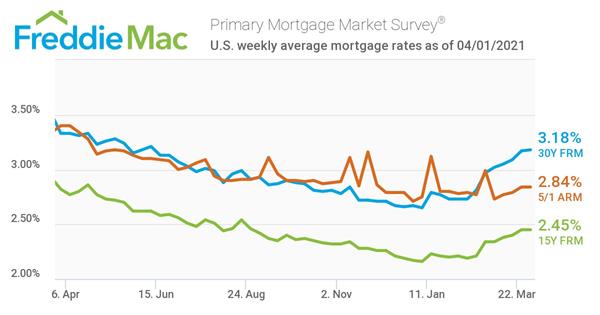 Subscribe to the NMP Daily