California Home Sales Perk Up For 3rd Straight Month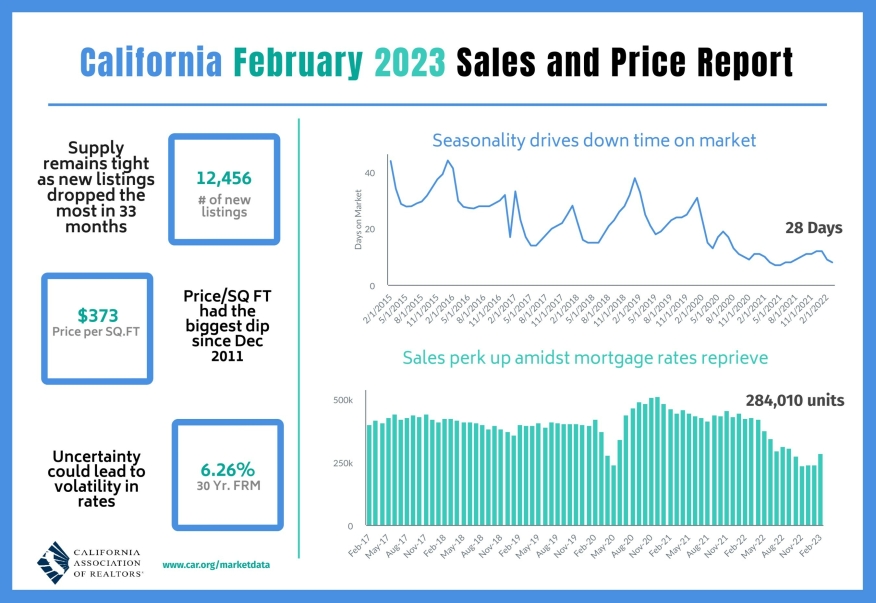 Median home price retreats for the sixth straight month.
A month with lower mortgage rates sparked good home sales for the California market in February. The California Association of Realtors (CAR) says existing, single-family home sales totaled 284,010.
February's sales pace was up 17.6% on a monthly basis from 241,520 in January and down 33.2% from a year ago when a revised 425,120 homes were sold on an annualized basis. Despite the third straight monthly improvement, sales of existing single-family homes in California remained below the 300,000-unit pace for the fifth consecutive month. 
The median price for a typical home at the state level has declined 18.3% from May 2022, when it reached its recent peak of $900,170. With home prices expected to remain soft throughout the rest of 2023, the market will see larger price drops moving through the spring home-buying season. 
"The recent failure of a handful of tech-focused banks caused an unexpected drop in interest rates, which could offer an opportunity in the near term for homebuyers who have been waiting on the sidelines to lock in a lower rate," said CAR Vice President and Chief Economist Jordan Levine. "However, any decline in rates is not likely to be sustainable since inflation remains high, and the Federal Reserve is willing to take some calculated risks in order to keep inflation under control."
Other key points from CAR's February 2023 resale housing report include: 
Housing inventory in California slipped to the lowest level in four months. Despite dipping from the month prior, the statewide unsold inventory index (UII) grew 60% from the 2.0 months recorded in February 2022 and registered 3.2 months in February 2023.
At the regional level, all regions except the Central Valley (-28.6%) continued to record sales declines of more than 30% from a year ago, with the Far North dropping the most at -39.4% . Four of the six counties in the region registered dips of more than 35% year-over-year in February. Central Coast (-38.3% ) was another region with a sales drop of over 30% , followed by Southern California (-33.8% ) and the San Francisco Bay Area (-32% ).
All counties tracked by CAR experienced double-digit sales drops in February on a year-over-year basis, with sales in 34 counties plummeting more than 30% and eight counties registering drops of more than 50% from a year ago. The sharp sales decline in some of these counties was attributed partly to the severe weather conditions experienced in the past few weeks throughout California. Mono County (-80% ) had the largest sales drop in February 2023, followed by Lassen (-73.9% ) and Glenn (-65% ). Only four counties ― Kings (-10.5% ), Placer (-11.2% ), Amador (-14.3% ), and San Mateo (-17.2% ) ― out of the 51 counties monitored by C.A.R. had a sales decline of less than 20% in February 2022.
At the regional level, median home prices dropped from a year ago in all major regions, with the San Francisco Bay Area declining the most and by double-digits year-over-year. With prices sliding more than 13% in six Bay Area counties, the Bay Area's regional median price was down 19.2% from a year ago and the dip in February was the largest price decline since June 2009. The uncertainty in the tech sector was partially responsible for the home price declines, but the sharp price drop also could be attributed to the price surge a year ago, when four of the six counties with double-digit price declines also registered price increases of more than 10% last February. Median prices in the state's other regions experienced more moderate declines, with the Central Coast's median price decreasing 6.2% , followed by the Central Valley (-3.4% ), Southern California (-2% ) and Far North (-1.6% ).
More than four out of five counties experienced year-over-year price declines in February, with 23 counties posting median price drops of more than 10% . Siskiyou (-38.8% ) had the sharpest decline of all counties, followed by Glenn (-28.5% ) and Del Norte (-23.1% ). Five counties registered an increase in their median prices from a year ago, with all counties growing by single digits. Kings recorded the biggest price gain of all counties at an increase of 7.6% from a year ago, followed by Tehama (6.7% ) and San Bernardino (3.7% ).