Despite Cuts, loanDepot Posts 3rd Straight Quarterly Loss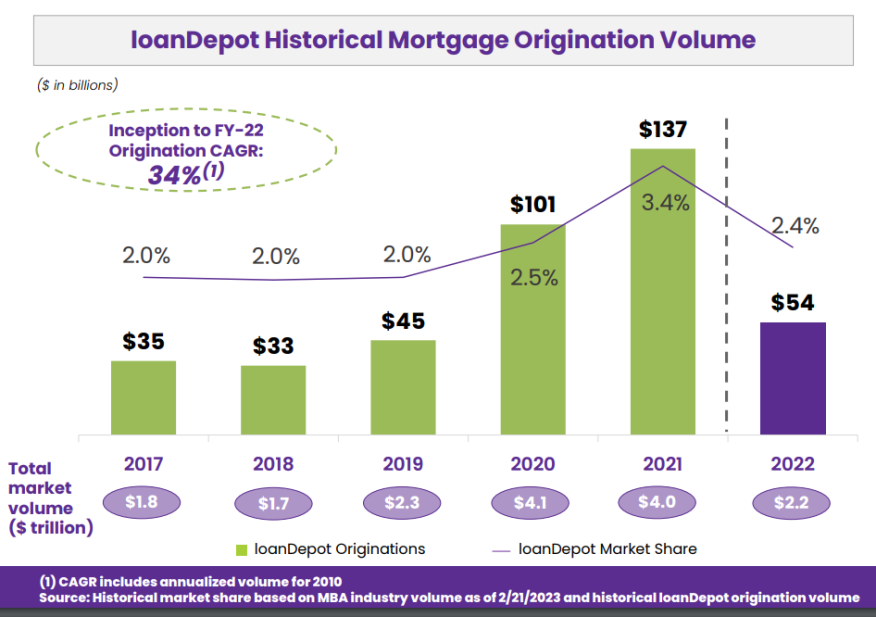 Also reported a net loss of $610.4M for all of 2022; ousted founder in proxy fight says board needs 'a fresh perspective'
KEY TAKEAWAYS
For the full year, loanDepot reported a net loss of $610.4 million, or $1.75 per diluted share.
Revenue fell 38% in Q4, 66% for the full year.
Loan origination volume fell 35% quarterly, and 61% YOY.
Combined, refis fell 65% from a year earlier.
Despite significantly reducing expenses, exiting the wholesale channel, and cutting thousands of jobs, loanDepot Inc. on Wednesday reported losses for both the fourth quarter of 2022 and the full year.
The Irvine, Calif.-based consumer lending and real estate services provider reported a net loss in the fourth quarter of $157.8 million, or 46 cents per diluted share, nearly 15% worse than the loss of $137.5 million, or 37 cents per diluted share, it reported in the previous quarter.
It was the company's third consecutive quarterly loss, and the results missed analyst expectations by 16 cents per share, according to Seeking Alpha. 
For the full year, loanDepot reported a net loss of $610.4 million, or $1.75 per diluted share, compared to a net profit of $623.2 million, or 87 cents per diluted share, a year earlier.
Company officials did not address the proxy fight started by Anthony Hsieh, the company's ousted executive chairman and founder. As the conference call began, Gerhard Erdelji, loanDepot's senior vice president of investor relations, stated that officials would "not be taking any questions regarding Anthony Hsieh's submission of a nomination notice."
Hsieh was ousted from the company's board of directors in February, after nominating Williston Financial Group CEO Steve Ozonian to the board.
Hsieh issued a statement Thursday morning, saying the company's financial results show that the "board would benefit from a fresh perspective amidst these challenges to ensure we emerge stronger relative to our competition."
Wednesday's earnings call, he said, "was an important market update and reflects the extraordinary challenges facing all mortgage companies due to the unprecedented increase in interest rates. loanDepot cannot maintain the status quo if we are to succeed over the long-term.":
The company's losses came as quarterly revenue fell to $169.7 million, down 38% from the third quarter, while full-year revenue fell to $1.3 billion, down 66% from 2021. That was primarily due to steep declines in loan origination volumes — a 35% drop from the third quarter to $6.4 billion, and a 61% year-over year decline to $53.8 billion.
"2022 was a year of dramatic volatility and extreme challenge for the mortgage and broader housing markets," said Frank Martell, loanDepot's president and CEO. "Virtually no part of the housing ecosystem was left unaffected as participants in the housing market grappled with substantial and rapid increases in the cost of home loans; the cumulative impact of significant home-price appreciation over the past four to five years, driven by structural supply-and-demand imbalances; as well as the depressive impact of high inflation on available household incomes."
Deep Cuts
loanDepot noted that its purchase loan origination volume increased to 76% of total loans during the fourth quarter, up from 70% in the previous quarter and from 34% of total loans in the fourth quarter of 2021. Martell said that reflected "our progress in executing a purpose-driven lending strategy of assisting our customers in buying a home."
The growth in purchase originations, however, also reflected the steep drop in refinancing loans that occurred as mortgage rates rose sharply during 2022. loanDepot's cash-out refinancing volume in the fourth quarter totaled $1.4 billion, down 46.6% from the third quarter, while rate/term refinancing totaled $86.4 million, down 44.6% from the previous quarter.
For the year, combined refis totaled $24.4 billion, down 75% from $97.7 billion a year earlier.
Martell said the company sought to address the "short- and medium-term impacts" of lower market activity by launching its "Vision 2025" strategic plan in July 2022. That plan included an emphasis on serving underserved communities and growing its home equity line of credit (HELOC) business, as well as reducing its physical footprint. 
It also included reducing expenses by an annualized $375 million to $400 million, and Martell said the company exceeded that goal by "more than 25%." That included cutting 6,100 jobs during the year, exceeding the 4,800 jobs it had expected to cut. The company said its staffing level at the end of 2022 was 5,200, down from 11,300 at the end of 2021.
According to the earnings report, loanDepot reduced its total expenses by $1.1 billion, or 36%, from Dec. 31, 2021, to Dec. 31, 2022.
The company also announced in August that it had made the "strategic decision" to exit the wholesale business.
"We are exiting our wholesale channel consistent with our strategy of becoming a more purpose-driven organization with direct customer engagement throughout the entire lending process," Martell said at the time. "Our exit from wholesale will also enable us to direct resources to other origination channels, reduce operational complexities, and increase margins."
Martell did discuss some positives for the company, including:
Successfully rolling out its HELOC solution, now offered in 38 states with plans to include more, and
Completing a two-year project to transition the company's mortgage servicing portfolio from a third-party sub-servicer to an in-house platform, which he said will further reduce third-party vendor expenses and improve the customer experience.
Back To Break-even?
During a conference call with analysts Wednesday, CFO Patrick Flanagan said company officials believe loanDepot entered "2023 financially sound, with $921 million of tangible equity, $864 million of unrestricted cash, and what we believe are excellent relationships and the support of our financing partners, the agencies, and our other investors."
Analyst Bob Napoli of William Blair & Co. followed up by asking Martell whether loanDepot could at least "get to break-even from a financial and net income perspective in this market over the next year," and the CEO was non-committal. 
"I don't think we have … a certain answer," Martell said. "I don't think anybody does. As I said in my prepared remarks, we're prepared to adjust our planning depending on market conditions, and we're hopeful we'll see a solid uptick in the selling season into the spring. If that doesn't materialize, we'll be looking at continued cost-management activity."
He added, "It's certainly the roughest market in a generation, for sure. But I think we have the liquidity, and we have a very sound and prudent capital management strategy that will see us through the cycle."