Federal Reserve Holds Rates Steady But Eyes Future Hike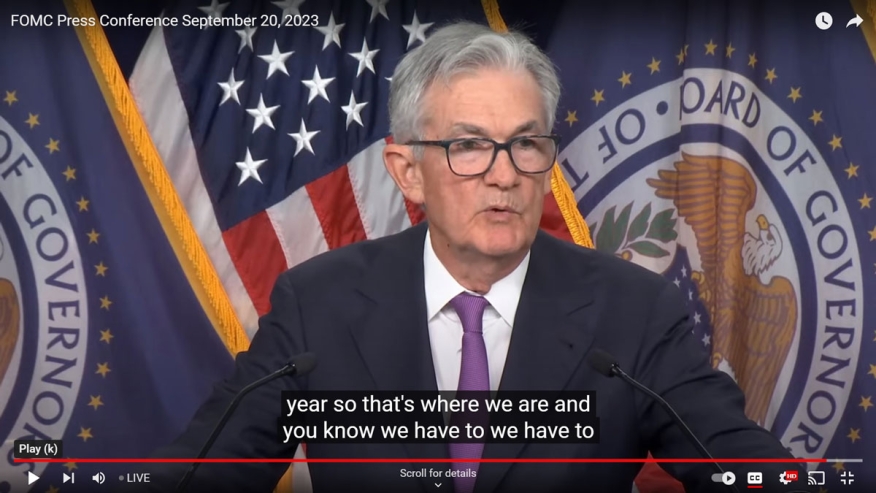 Fed retains current rate between 5.25%-5.5%; Housing market may see a shift as inflationary pressures are monitored and policy adjustments are made.
The Federal Reserve Open Market Committee hit pause on rate hikes for now, but its "wait and see" approach isn't expected to last forever. It indicated it still expects one more hike before the end of the year and fewer cuts than previously indicated over the next two years.
Wednesday's decision maintained the Fed funds rate between 5.25%-5.5%, the highest it's been in over two decades. This rate affects bank overnight lending rates, which also influence various forms of consumer debt.
While the decision to maintain rates was anticipated, the future direction of the Federal Open Market Committee's rate-setting remains in question. Documents released after the announcement suggested a leaning towards a more restrictive policy and a prolonged high-interest rate approach.
Fed Chair Jerome Powell emphasized a cautious approach to future policy adjustments, stating the need for more evidence that committee members have reached the right level in their battle against inflation.
"We want to receive convincing evidence we have reached the appropriate level, but we want to see more progress before we reach that conclusion," Powell said in remarks to the media.
In looking toward the future and future hikes, the Fed saw twelve participants in favor of the additional hike, with seven against.
Data released by the Fed indicated a potential for one additional hike this year and two reductions in 2024, which is two less than the predictions made in June. This adjustment would position the funds rate at approximately 5.1%.
What will this mean for the housing market?
"We expect that inflation will continue to drop closer to the Fed's target, the job market will continue to slow, and that mortgage rates should begin to reflect that the Fed's moves in 2024 will be cuts – not further increases. This should provide some relief in terms of better affordability for potential homebuyers," Mortgage Banker Association SVP and Chief Economist Mike Fratantoni said.
Fratantoni added: "While homebuilder sentiment is clearly impacted by the recent surge in mortgage rates, permits for single-family homes provide a positive outlook for the pace of construction in the year ahead. If mortgage rates trend down in 2024 as we anticipate, the combination of more homes for sale and somewhat lower rates should support stronger purchase volume."
However, Powell made it clear that the Fed's mandate doesn't necessarily have anything to do with the housing market.
Asked about the lock-in effect and how consumers with 3% mortgages are not as impacted by inflation as those who have to rely on their credit cards for consumption, Powell said the people who are most hurt by inflation are those on a fixed income.
"It's fair to say the economy has been stronger than many expected, given what's been happening with interest rates," Powell said. "Household balance sheets and business balance sheets have been stronger than we had understood so spending has held up."
The savings rate for consumers has come down a lot, but he said it also could be that policy hasn't been restrictive enough for long enough.
"We're making progress without seeing the type of unemployment that we've seen in the past," Powell said. "But you're right. When we raise rates, people who are living on credit cards and borrowing are going to feel that versus people with lots of savings."
Powell said consumers are expressing dissatisfaction with inflation in surveys, "but their behavior is not what you would expect from the surveys."
Good things are happening with wages and the economy on household balance sheets, he added.